The Joneses
(2010)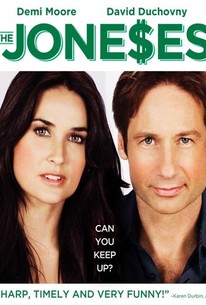 TOMATOMETER
AUDIENCE SCORE
Critic Consensus: It doesn't pursue its subversive premise as far as it should, but The Joneses benefits from its timely satire of consumer culture -- as well as a pair of strong performances from David Duchovny and Demi Moore.
Movie Info
A picture-perfect family moves into an upscale community, impressing the locals and integrating themselves into every aspect of the community until a sudden tragedy forces them to reassess their priorities. Steve (David Duchovny) and Kate Jones (Demi Moore) have everything a happily married couple could ever want: their kids, Jenn (Amber Heard) and Mick (Ben Hollingsworth), are intelligent and attractive, they live in an affluent neighborhood, and their sprawling suburban home is jam-packed with all of the coolest gizmos and gadgets that money can buy. It isn't long before the Joneses have struck up a friendship with their next-door neighbors Larry (Gary Cole) and Summer (Glenne Headly), and become integral components of their community. But take a closer look at the situation and you'll start to see something ominous lurking just beneath the surface. It's only when the Joneses are confronted with an unexpected disaster that they finally discover who they really are beneath the glossy veneer of consumerism. ~ Jason Buchanan, Rovi
News & Interviews for The Joneses
Critic Reviews for The Joneses
Audience Reviews for The Joneses
Nice cast. Great pitch. But fail to close the deal.
UUd Irawan Yudha Ariyanto
Super Reviewer
½
Interesting idea for a film - definitely has something to say about consumerism which most of us get sucked into, but taken to an extreme. Despite the topic, it is easy, pleasant viewing. I liked it more than I expected to. Demi's plastic face is mildly distracting, and I think I would have liked it more if someone (anyone!) else had played the part, but she was passable. David Duchovny is also getting less believable as a hunk, but at least he still looks like himself. Good acting, also from the teen cast. Worth a look.
Nicki Marie
Super Reviewer
Kate Jones:  What was that?  Steve Jones: Just applying myself.  "Can you keep up?" For me, The Joneses was two completely different movies. The first 45 minutes which was cool and original. And the last 45 minutes which was predictable, formulaic and melodramatic. After the first half  of this movie I was totally in love with it. The idea is great and the casting is perfect. You couldn't pick four better people to play a "perfect family." They look the part and they sure act it. But  that initial love I had for the film totally evaporates in the end. I can't say that I liked the movie, but I can't say I disliked it either. I'm leaning more towards the liked it side though, because I did love the set-up. In the end it turns out to be nothing more then a standard romantic comedy,  which really caught me off guard. The romantic aspect of this film is really badly done. I really didn't even realize that it was happening. The filmmaker gives it like 10 minutes in film and it all seems very rushed. Then there are the kids which also turn out to be two big cliches. And two perfectly casted cliches at that. Amber Heard has to be one of the hottest actress's around. She isn't a great actress, but she isn't horrible either and looks help her performances go down a little easier too. God, I really wish the film would have went a different route. I thought for sure after the first half I would be giving this movie no less then 4 and a half stars and now after finishing it I'm giving it a soft 3. I still think it was a worth while movie to watch though. It was fun while it lasted I guess.
Melvin White
Super Reviewer
The Joneses Quotes
| | |
| --- | --- |
| Kate Jones: | What was that? |
| Steve Jones: | Just applying myself. |
| | |
| --- | --- |
| Steve Jones: | Geez, I should say "icon" more often. |