Joseph Conrad's 'The Secret Agent'
(1996)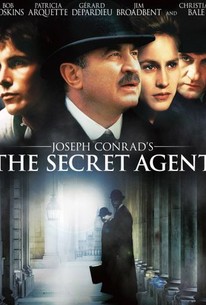 Movie Info
The sophomore directing effort by Dangerous Liaisons screenwriter Christopher Hampton, following Carrington, The Secret Agent is a well-performed but dramatically sluggish adaptation of the novel by Joseph Conrad. Set in London during the late 1880s, the film centers around Verloc; owner of a small pornography shop, he is a spy in the service of the Russian government. Far from the glamorous modern image of the secret agent, Verloc is a mere functionary who writes regular reports on a group of exiled anarchists he has infiltrated and does little else. The changing political mood, however, has led his supervisor to demand results. In order to encourage a British crackdown on anarchists, Verloc is ordered to stage a bombing of the Royal Observatory. The attack does not go as planned, however, resulting in tragedy for Verloc and his family, particularly his beautiful young wife Winnie and his mentally challenged stepson Stevie. Straddled uneasily between the strategies of a traditional suspense film and a more distant flashback structure, the film never achieves a confident dramatic momentum. Regardless, there are numerous strong performances, including a notably unnerving supporting turn by Robin Williams as an obsessive, potentially suicidal explosives expert.
Critic Reviews for Joseph Conrad's 'The Secret Agent'
Audience Reviews for Joseph Conrad's 'The Secret Agent'
Let's review: Christian Bale plays a retard who gets blown up by a bomb, Bob Hoskins gets knifed in the chest, Eddie Izzard has the worst Russian accent of all time, Robin Williams is uncredited and plays a terrorist, and Patricia Arquette plays a brittish woman making her terrible teeth acceptable. What's the point of all this? Nobody knows. A bunch of stuff happens and then the movie ends, but it wasn't un-enjoyable.
Curtis Lilly
Super Reviewer
½
Maintains interest with story and great cast.
Anthony Valletta
Super Reviewer
Joseph Conrad's 'The Secret Agent' Quotes
There are no approved quotes yet for this movie.