Journey to Italy (Viaggio in Italia) (Strangers) (The Lonely Woman)
(1954)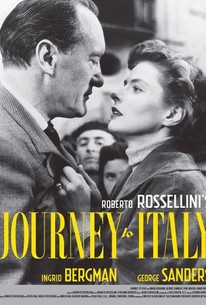 Journey to Italy (Viaggio in Italia) (Strangers) (The Lonely Woman) Photos
Movie Info
Roberto Rossellini directs this drama starring his then-wife Ingrid Bergman as Katherine Joyce, a wealthy British woman who accompanies her husband, Alex (George Sanders), on a trip across the Italian countryside to close on an inherited villa in Naples. Far from their London home, the couple becomes frustrated with each other and seem to be headed for divorce. Katherine tells Alex about a lost lover who risked his life to see her, but it only leaves Alex even more indifferent to her. Planning to spend the rest of their vacation away from each other, Alex joins up with some other British guys on Capri to drink and flirt, while Katherine tours the natural attractions and museums of Naples and Pompeii. Viaggio in Italia was unsuccessful when it originally released to theatres; years later it was discovered by French critics and called a masterpiece in Cahiers du Cinema. ~ Andrea LeVasseur, Rovi
Critic Reviews for Journey to Italy (Viaggio in Italia) (Strangers) (The Lonely Woman)
Audience Reviews for Journey to Italy (Viaggio in Italia) (Strangers) (The Lonely Woman)
Ponderous direction doesn't help but the two leads are so talented that they make this pedestrian drama worth watching.
"Voyage to Italy" starts with Alex(George Sanders) and Katherine(Ingrid Bergman), a wealthy couple, traveling from England to Naples to see Burton(Leslie Daniels) about settling a family estate there. That's only the beginning of the journey, at least emotionally, as she thinks he could use the trip as a break from work but he only intends to stay as long as necessary to complete the deal. For the record, they seem like one of those mismatched couples who got married only after seeing there was nobody else left and said why not. But as radiant as the human actors are in the movie, they are not the stars of it. That comes down to the local scenery and history of Naples, where despite all the death, both ancient and recent, the locals live their lives to the fullest which Alex and Katherine have trouble adjusting to, and not just because they drive a car with a steering wheel on the wrong side of the car. And that's pretty much it for any kind of story here which is unsentimental to a fault, at least until the movie's forced ending.
An intimate and involving drama about an unhappy couple facing the collapse of their marriage while on a trip that only exposes their mutual discontent. It feels sad and real, but it is a pity that the story ends in such an easy and artificial way.
Carlos Magalhães
Super Reviewer
Journey to Italy (Viaggio in Italia) (Strangers) (The Lonely Woman) Quotes
There are no approved quotes yet for this movie.