Journey 2: The Mysterious Island
(2012)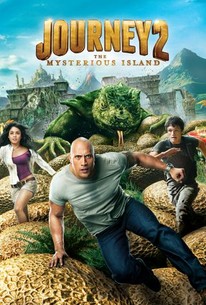 TOMATOMETER
AUDIENCE SCORE
Critic Consensus: Aggressively unambitious, Journey 2 might thrill tween viewers, but most others will find it too intense for young audiences and too cartoonishly dull for adults.
Journey 2: The Mysterious Island Photos
Movie Info
In this follow-up to the 2008 worldwide hit Journey to the Center of the Earth, the new 3D family adventure Journey 2: The Mysterious Island begins when young Sean Anderson (Josh Hutcherson, reprising his role from the first film) receives a coded distress signal from a mysterious island where no island should exist. It's a place of strange life forms, mountains of gold, deadly volcanoes, and more than one astonishing secret. Unable to stop him from going, Sean's new stepfather, Hank (Dwayne Johnson), joins the quest. Together with a helicopter pilot (Luis Guzman) and his beautiful, strong-willed daughter (Vanessa Hudgens), they set out to find the island, rescue its lone inhabitant and escape before seismic shockwaves force the island under the sea and bury its treasures forever. -- (C) Official Site
News & Interviews for Journey 2: The Mysterious Island
Critic Reviews for Journey 2: The Mysterious Island
Audience Reviews for Journey 2: The Mysterious Island
½
What's interesting about this standard adventure tale is how it tells it's story: the barest bones of construction, and only the points you are already well versed with (from all the other adventure tales they've "borrowed" from) to get to the point quickly. Quite literally they find a "secret map written in code" and decipher the thing in less than 5 minutes, and then "it's off to the island!". Everything happens fast, and everyone's only playing a cliche, and so after a minute it becomes cool simply watching the race to the end. Should I tell you "no surprises here"? If I did, that would be the only surprise of this feature.
Kevin M. Williams
Super Reviewer
Yes, it's full of over the top action, unlikely coincidents and silly one-liners, but you gotta give the movie credit for the pace it's keeping up. And as a kid I would have loved this entertaining adventure on an island full of monsters, animals and old temples. It's all about the target audience, after all.
½
Slightly silly title but if you're unaware this is the sequel to the 'Journey to the Centre of the Earth' remake starring Brendan Fraser. Pretty much the same thing accept swap Fraser with Dwayne Johnson playing Hutcherson's stepfather for this adventure. The title is also a clever cross over with Jules Verne's other fantasy novel 'The Mysterious Island'. So it reads...'Journey 2' (as in part 2, the sequel), 'The Mysterious Island'...I say clever but...never mind. Lots of the expected really, you can't really fail to know what your gonna see here, big bugs, volcanoes, sea beasties, lost gold, deep thick jungles and Michael Caine playing your typical bearded oldboy intrepid adventurer...think along the lines of Connery in 'The Last Crusade'. Despite that it is good fun if you enjoy light-hearted fantasy much like the original 'Journey to the Centre of the Earth' film. It is of course totally daft how Johnson and Hutcherson know how to pilot Captain Nemo's Nautilus, hijack large bumblebees and ride them like speeder bikes and Johnson throwing a spear underwater but hey!...you overlook these things. Enjoyable stuff and hopefully a third on the way, maybe a little less focus on Johnson though this time, he's admittedly a funny guy but boy does he love being the centre of attention.
Phil Hubbs
Super Reviewer
Journey 2: The Mysterious Island Quotes
| | |
| --- | --- |
| Sean: | Now what? |
| Hank: | There's only one thing left. The Thunder Cookie. |
| | |
| --- | --- |
| Alexander: | How do you like grandma now? |
| | |
| --- | --- |
| Sean: | I've got something. What about the Nautilus? |
| Gabato: | How is an exercise machine gonna help us get out of here? |
| | |
| --- | --- |
| Hank: | This chopper's not gonna work out. |
| Sean: | You know what, Hank? The more I look at it this helicopter's pretty freaking gorgeous. |
| Sean: | You know what, Hank, the more I look at it, this helicopter's pretty freaking gorgeous. |