Joy Ride
(2001)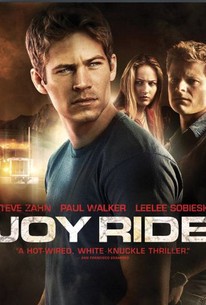 TOMATOMETER
AUDIENCE SCORE
Critic Consensus: A well-constructed B-movie thriller, Joy Ride keeps up the necessary level of tension and chills. Critics also liked Zahn's performance as the goofball older brother.
Movie Info
After forays into film noir, thrillers, dramas, and even documentaries, director John Dahl tries the teen horror genre on for size. Paul Walker stars as Lewis Thomas, a college freshman embarking on a cross-country road trip during summer break to pick up his girlfriend Venna (Leelee Sobieski). Along for the ride is Lewis' brother Fuller (Steve Zahn), a practical joker who uses the car's CB radio to play a cruel prank on a lonely trucker known only by the handle Rusty Nail. The victim of Fuller's gag turns out to be a psychotic murderer and soon the brothers are being pursued by the relentless stalker, who gets his revenge in gruesome fashion. Joy Ride, which co-stars Matthew Kimbrough, was produced under the working title "Squelch." ~ Karl Williams, Rovi
News & Interviews for Joy Ride
Critic Reviews for Joy Ride
Audience Reviews for Joy Ride
½
All college student Lewis wants to do for his summer break is travel cross country to pick up his girlfriend Venna. In tow is his recently paroled practical joke pulling brother Fuller. Their trip goes from banal to scary when a prank of Fuller's using a CB radio on a lonely trucker known as Rusty Nail goes horribly awry in this tense thriller heavily inspired by Spielberg's masterpiece Duel. Admittedly, Fuller's prank is cruel, but when it turns out that Rusty is a psychopath that can't take a joke, the boys find themselves in a real world of trouble. You kinda pity them, and feel for them, even if Fuller does deserve to get some sort of comeuppance. One of the best parts of the film, arguably, is the use of Ted Levine as the voice of Rusty Nail. His delivery and demeanor are creepy and really make your skin crawl, and really help elevate this basic, semi-derivative material into a pretty solid and intense thriller. Paul Walker is decent as Lewis, and Steve Zahn is fine as Fuller. As Venna, we get Leelee Sobieski, who, to me at least, is a bit of a treat, even if she probably looks at this movie as just a paycheck. But as decent as they are, none of them steal the show quite like Levine does, and he's just using his voice, so that says something. The film is a bit out there, and not the most realistic, but if you want a movie that delivers the thrills (as well as some visceral stuff), then yeah, give this a look. It's a lot better than it seems it should be.
Chris Weber
Super Reviewer
½
This movie is both trilling and fun at the same time, mixing laughs, spooky moments, and just plain cheesiness in almost every scene. Paul Walker and Steve Zahn play great brothers together, and their chemistry is very believable. Sure, the premise is simple, and one thing just kind of leads to another, seeing as something had to happen in order for the next to follow. I found myself laughing even in the thrilling moments, but that was okay, because the character were so zany that it was okay to chuckle. Some moments will make you role your eyes, and the script may be predictable for the most part, but J.J. Abrams clearly had his hand in the script, because the few twists really do work. The ending left me disappointed, but it's still a fun movie!
Like a bigger, dumber version of Spielberg's "Duel" with excellent production values.
Joy Ride Quotes
| | |
| --- | --- |
| Rusty Nail: | Now you know how it feels to be the punchline. |
| | |
| --- | --- |
| Rusty Nail: | You know you should get that fixed. |
| Fuller Thomas: | Get what fixed? |
| Rusty Nail: | Your tail light. |
| | |
| --- | --- |
| Rusty Nail: | I like the rain-keeps everyone inside, washes everything clean. |
| | |
| --- | --- |
| Venna: | How scared am I supposed to be? |