Joy Ride 2: Dead Ahead
(2008)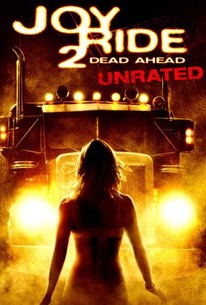 AUDIENCE SCORE
Critic Consensus: No consensus yet.
Joy Ride 2: Dead Ahead Photos
Movie Info
Four friends on a road trip to Las Vegas discover that they don't have to break the bank in order to get some cheap thrills after their car breaks down in the middle of nowhere and they inadvertently draw the attention of the psychotic trucker who goes by the handle Rusty Nail. Left stranded in the dusty desert with no means of making their way back to civilization, the desperate teens must bend to the diabolical trucker's every sadistic whim if they hope to survive through the night and avoid paying his deadly toll. Nicky Lynn Aycox, Kyle Schmid, and Nick Zano star. ~ Jason Buchanan, Rovi
Critic Reviews for Joy Ride 2: Dead Ahead
All Critics (2) | Fresh (0) | Rotten (2)
One clear reason why sequels are sometimes considered as insults. [Full review in Spanish].
...suffers from many of the same problems that one tends to associate with low-budget efforts of this ilk...
Audience Reviews for Joy Ride 2: Dead Ahead
Actually starts out okay, in a mindless sort of way, but goes steadily downhill. Way inferior to the original movie. Cast are not too bad, considering, but it really is a second rate effort.
Nicki Marie
Super Reviewer
½
For the first half of the film we are just seeing a repeat theme of the first installment, however the second half evolves from just a chaser film, into a torture type Slasher, it's still very predictable and very much a no - brainer.
Lady D'arbanville
Super Reviewer
Considering that this is a direct to DVD film to the awesome Joy Ride, the filmmakers managed to pull something off that worked quite well on screen. The film though flawed makes up for it in some genuinely tense moments of terror. When a group of teens go cross country, they come across a seemingly abandoned house after their car breaks down and take a car found in the houses barn. Bad idea because now Rusty Nail lives there and he comes back to his place to discover that his ride missing. Now he's in hot pursuit, and plays an even more deadly game than in the first Joy Ride. Joy Ride: Dead Ahead is a very well crafted direct to DVD film, and it's a far superior film that the usual films released in such a manner. The cast here are a talented bunch, they won't win any Oscars, but they definitely do a fine job at this second entry. Though the film flawed, like I've previously said, Joy Ride:Dead Ahead has lots of tension and scares going for it. The actor playing Rusty Nail is fairly good, and we see a bit more of him. Also the film is more gory than the first, so it has a that going for it. The cat and mouse game is terrific and you're constantly on the edge of your seat on wondering what will happen next. A fine sequel that will probably appeal to fans of the first Joy Ride, I went in with low expectations and was fairly surprised by the overall film. Very well done, and very entertaining. Rusty Nail's cat and mouse game is even more deadly this time around and delivers good thrills. Not perfect, but not terrible. This is one direct To DVD film that was done right.
Joy Ride 2: Dead Ahead Quotes
There are no approved quotes yet for this movie.