JSA: Joint Security Area (Gongdong gyeongbi guyeok JSA)
(2000)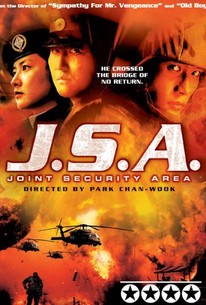 JSA: Joint Security Area (Gongdong gyeongbi guyeok JSA) Photos
Movie Info
The long-standing tension between North and South Korea threatens to boil over into an international incident in this thriller, which was a major box office success in its native South Korea. A North Korean soldier (Shin Ha-kyun) is shot while manning his guard station near the demilitarized zone along the border of the two Koreas. Maj. Sophie Jang (Lee Yeong-ae), a member of the DMZ Neutral Supervisory Committee who was raised by Swiss and Korean parents, is brought in to investigate the incident. Sgt. Lee Soo-hyeok (Lee Byung-heon), a member of the South Korean army, is considered the prime suspect in the attack, but Jang soon finds that getting to the truth is no easy task. Lee refuses to answer questions about the incident, and the investigator, in a territory considered a "trouble spot" since the killing of two United Nations soldiers 25 years earlier, faces anger and suspicion from both North and South Korean military representatives. Gongdong Gyeongbi Guyeok Jsa is based on the novel DMZ by Korean author Park Sang-yeon.
Critic Reviews for JSA: Joint Security Area (Gongdong gyeongbi guyeok JSA)
Audience Reviews for JSA: Joint Security Area (Gongdong gyeongbi guyeok JSA)
When two North Korean soldiers are killed in a shooting incident in the demilitarized zone of the border between the North and South, an independent investigator is called in to prevent it from becoming a full-blown international incident. Without wanting to give too much away, Chan Wook Park's story of unofficial detente is a classy "hands across the border" tale which shows how it is lot harder to make enemies of people than just drawing a line on a map. The politics of the situation almost come in for some ridicule in this warm-hearted but tragic tale that shows how mutual distrust and hate-breeding propaganda can lead to nothing but death and misery for all involved. The investigation itself is actually the least interesting part of the film, coming across as a little dry and contrived and the performances by the English speaking cast are easily the least engaging, but the flashbacks that show the truth behind the events that unfolded are handled brilliantly. Park hasn't quite perfected his trademark style yet, but all the night time scenes are really nicely shot and there is a lot of humour and pathos in the relationship between these soldiers who find they have far more in common than the politicians would have them believe. Not perfect, but it's lacking in the kind of saccharine and flag waving you'd expect from Hollywood and makes for a compelling thriller with a very human message.
A heartbreaking, poignant anti-war film that works best if you don't look into the plot too much, as to avoid the sometimes awkward plotting.
Kevin Cookman
Super Reviewer
Kind of hard to believe that this is Park Chan-Wook. While an engaging film, it is a bit overly sentimental in parts. I understand that subject matter dealing with the reunification of a country torn in two would be replete with emotion, but some scenes felt like they were created for a TV movie on Korea's own Lifetime network. None the less, it is still an engaging who done it and an interesting glimpse into the psyche of a nation divided.
JSA: Joint Security Area (Gongdong gyeongbi guyeok JSA) Quotes
There are no approved quotes yet for this movie.