Juarez
(1939)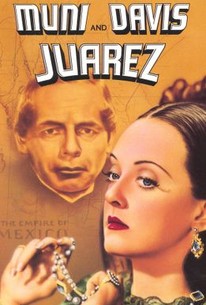 Movie Info
Juarez was originally designed to concentrate almost exclusively on the tragedy of Hapsburg Emperor Maximillian, whose attempts to establish a puppet government in Mexico on behalf of Napoleon III ended in disaster and death. But when Paul Muni decided that he wanted to play Zapotec-Indian-turned-Mexican President Benito Pablo Juarez, the film's emphasis perceptibly shifted -- and Bette Davis, cast as Empress Carlotta, was shunted to second billing rather than first. Muni's makeup and costuming convincingly transforms him into Juarez incarnate. But unlike his other historical impersonations (Pasteur, Zola), Muni's Juarez is a one-note characterization: stoic, uncompromising, and v-e-e-r-y slow of speech. Far more exciting dramatically is Bette Davis as Empress Carlotta, whose highly stylized descent into madness is a tour de force both for the actress and for director William Dieterle. Claude Rains and Gale Sondergaard, as Napoleon III and Empress Eugenie, in essence repeat their diabolical characterizations from Anthony Adverse (1936), while John Garfield is singularly miscast as Pofirio Diaz. The best performance is delivered by Brian Aherne, whose kindly, honorable Emperor Maximillian is less a despot than a misguided political pawn. When Aherne, about to be executed at Juarez' orders, requests that his favorite Mexican song "La Paloma" be played as he is led before the firing squad, audience sympathies are 100% in Maximilian's corner--which was not quite what the filmmakers intended. Based largely on Bertita Harding's book The Phantom Crown (the film's original title), Juarez takes every available opportunity to parallel its title character's fight against foreign intervention with the then-current European situation. To protect their investment in Juarez Warner Bros. purchased outright a like-vintage Mexican film on the same subject, The Mad Empress, suppressing the latter film's release in the United States.
Critic Reviews for Juarez
Audience Reviews for Juarez
½
Well appointed but lumbering, miscast drama. Bette is fine, all spit and fire but John Garfield, who was embarrassed by his forced casting, is completely out of place as Porfirio Diaz with his New York accent still firmly in place. Paul Muni, a very fine actor in modern dress roles, does what he always does when heavily made up he lets the makeup do the acting for him. A good try but stodgy.
Juarez Quotes
There are no approved quotes yet for this movie.