Jubal
(1956)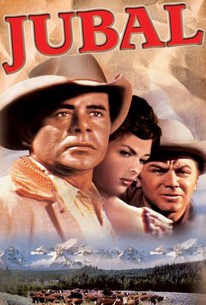 Movie Info
Jubal could just as easily have been titled Othello Out West, even though it was officially based on a novel by Paul I. Wellman. The Othello counterpart is likable (and extremely gullible) ranch owner Shep Horgan (Ernest Borgnine). Horgan hires handsome drifter Cassioer, Jubal Troop (Glenn Ford) as a cowhand, much to the delight of the film's "Desdemona", Horgan's hedonistic wife Mae (Valerie French). The "Iago" of the proceedings is psychotic ranch hand Pinky (Rod Steiger), who, envious of Jubal and hoping to enjoy Mae's sexual favors, sows the seeds of suspicion in Horgan's mind by falsely accusing Jubal of messing around with Horgan's wife. Amidst all this nastiness, there is at least one wholly virtuous character, pretty Naomi Hoktor (Felicia Farr), so guess who Jubal eventually winds up with?
Audience Reviews for Jubal
½
A tiny melodrama played out beneath the towering Grand Tetons, Ford plays a wandering cowpoke taken in by warmhearted ranch owner Borgnine and is prospering except for the attentions of unhappy housewife French. On the sidelines is villain Steiger, only a little overdone, whispering treacheries. It's a competent Western, though held aloft almost entirely by the depth's portrayed by Borgnine's heroic big numbskull.
Kevin M. Williams
Super Reviewer
A solid western which shares more with a Shakespearean tragedy than a gunslinger pulp mag. Set on a cattle farm, thins stir up as new arrival Jubal (Ford) catches the eye of the bosses wife. What unfolds is the timeless dance of jealousy and survival. While very dense in structure, the cast makes this movie very enjoyable and lively. Glenn Ford delivers, so does Rod Steiger who plays a delightfully evil nemesis and adds an existential depth to the film, unusual for classic US westerns. Great if youlije Westerns !
Henrik Schunk
Super Reviewer
½
Okay western with many familiar faces. Steiger makes a good hissable villian but the ending is anti-climatic.
Jubal Quotes
There are no approved quotes yet for this movie.