Jubilee
(1978)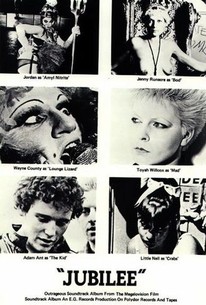 Movie Info
Jenny Runacre plays 16th-century British monarch Elizabeth I in Jubilee. Through a time warp, Elizabeth is whisked to the London "punk" scene of the 1970s. An automatic misfit by virtue of her archaic costuming and speech patterns, Elizabeth is adopted by a group of "cast-off" modern women who've formed a little clique of their own. She is introduced to the aural, visual and sensual pleasures of modern London, and after a while she isn't so keen on returning to her own time. The quirkiness of Jubilee is underlined by the presence in the cast of Rocky Horror Picture Show vets Little Nell (as a character named "Crabs") and Richard O'Brien. Also heard and seen is rocker Adam Ant, who turns in one of the film's more polished performances. Jubilee began life as one of director Derek Jarman's experimental 16-millimeter cinematic collages.
Critic Reviews for Jubilee
Audience Reviews for Jubilee
This must be my week of crap movies, I'm going to be honest right from the start: I've only seen two films from the late Derek Jarman, this and The Last of England (1987). And I must say that neither of them made much of an impression on me. Jubilee tells the disjointed story of Queen Elizabeth I, who bored by her own existence has her court astrologer and an angel invent a time travel devise that will allow her to travel forward to twentieth century Britain. Once again Jarman revels in pointing out the failings in modern British culture, from the violent punk scene that the main characters are part of, to the harsh severity of the music industry and corporate big business. This has no precedence over the plot, because Jubilee has no plot, just a rambling incoherent mish-mash of filth and vulgarity, which Jarman seems to think will help drive his message of a Britain on the brink of self-destruction home. Jubilee is a film that so obviously wanted to be hip it hurts, looking back it seems Jarman took everything that was just about to explode into the public conscious and structured a highly self-indulgent story around it. So we are shown one of the most miss-representative looks at punk one could ever imagine, and a cast that reads like the who's-who of seventies underground celebrities (Richard O Brien rubs shoulders with the likes of a chubby Toyah Wilcox and a pre-fame Adam Ant). Jarman was clearly pandering to his overly inflated ego, after his gay swords and sandals "epic" Sebastiane (1976) was hailed a modern classic. Jubilee is yet another product of art-house cinema gone wrong and film-making in it's most brash and unsubtle form. 1 Star 9-29-13
Bruce Bruce
Super Reviewer
weird weird weird British stage show and street trash exhibition. I'm a Toyah fan so had to see this movie.
Lafe Fredbjornson
Super Reviewer
Great set-up, not so great outcome. Definitely worth watching once if you're even slightly interested in weird films or punk rock, but perhaps not a second time (though I suppose you'd really need a second watch to fully understand this film).
vieras esine
Super Reviewer
Jubilee Quotes
There are no approved quotes yet for this movie.