Jud Suss Film Ohne Gewissen (Jew Suss: Rise and Fall)
(2010)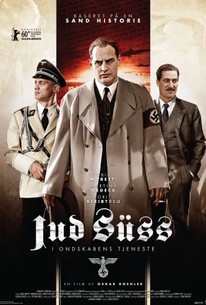 AUDIENCE SCORE
Critic Consensus: No consensus yet.
Movie Info
Filmmaker Oskar Roehler examines the story behind one of the most notorious movies of the Third Reich in this drama. Joseph Goebbels (Moritz Bleibtreu), Adolf Hitler's minister of propaganda, was a firm believer in the power of motion pictures, and in 1939 he wanted to make a film that would help shape public opinion against Jews in anticipation of the Nazi "final solution." Goebbels was eager to make a movie based on the story of Joseph Suss Oppenheimer (1698-1738), a famous Jewish financier who gained power as an adviser to the Duke of Wurttemberg until he was implicated in a scandal by his enemies. While Oppenheimer's story has been the basis of several dramatic adaptations, Goebbels intended to give the story a strong anti-Semitic twist, and was determined to make it an artistic success. Goebbels saw up-and-coming actor Ferdinand Marian (Tobias Moretti) in a production of Othello and believed he was the perfect choice to play the Jew Suss. Marian was not interested in the role, but Goebbels was determined, and when he learned that Marian's wife Anna (Martina Gedeck) was Jewish and they had been protecting a Jewish colleague named Deutscher (Heribert Sasse), he used this information to force the actor to take the role. Goebbels encouraged Marian to make his performance a tour de force, and with the help of director Veit Harlan (Justus von Dohnanyi), the film became a major success in Germany and other Axis nations. But in years to come, Jew Suss would become an ugly legacy with terrible consequences for nearly everyone involved. Jud Suess: Film Ohne Gewissen (literally "Jew Suss: Film Without Conscience," while the English language release title is Jew Suss: Rise and Fall) received its world premiere at the 2010 Berlin International Film Festival; Viet Harlan's 1940 film, meanwhile, is banned from public exhibition in Germany. ~ Mark Deming, Rovi
Critic Reviews for Jud Suss Film Ohne Gewissen (Jew Suss: Rise and Fall)
Audience Reviews
There are no featured reviews for Jud Suss Film Ohne Gewissen (Jew Suss: Rise and Fall) at this time.
Jud Suss Film Ohne Gewissen (Jew Suss: Rise and Fall) Quotes
There are no approved quotes yet for this movie.