Judas Kiss
(1998)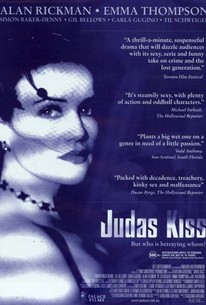 Movie Info
Young lovers and small-time New Orleans scammers Coco Chavez (Carla Gugino) and Junior Armstrong (Simon Baker-Denny) move up a few rungs when they kidnap wealthy computer mogul Ben Dyson (Greg Wise) in Sebastian Gutierrez's neo-noir. During the crime, Coco kills Dyson's girlfriend, Patty (Beverly Penberthy), wife of Senator Rupert Hornbeck (Hal Holbrook). Assigned to the case are FBI Agent Sadie Hawkins (Emma Thompson) and Police Lt. David Friedman (Alan Rickman). When Hornbeck threatens Friedman instead of assisting him, the detective suspects that this is no ordinary kidnapping for ransom, and he does his own investigation. A conscience-stricken Coco realizes that she may have been set up to kill Patty, and she, too, takes matters into her own hands. A fairly complex tale of betrayal and corruption, Judas Kiss also spoofs noir conventions -- for instance, agent Hawkins is reading Jim Thompson's crime novel The Killer Inside Me, and he discusses the writer's works with Friedman during lulls in the action.
Critic Reviews for Judas Kiss
All Critics (7) | Fresh (3) | Rotten (4) | DVD (2)
Has nothing all-too-surprising distinguish it from the winding paths of other similar films.
This hip attempt at neo-noir and a Quentin Tarantino type of film, uses the colorful city of New Orleans as background for its murder and kidnapping tale.
Audience Reviews for Judas Kiss
I barely remember this. It was a boring cop movie, but I may give it another try someday.
A cool and sexy thriller!!! Great acting all around and especially from the captivating Carla Gugino as the sexpot Coco Chavez.
Magnus XXXX
Super Reviewer
Judas Kiss Quotes
There are no approved quotes yet for this movie.