Jude
(1996)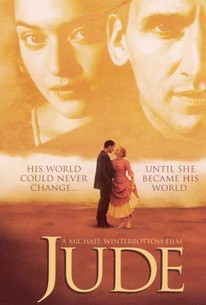 Movie Info
Remaining quite true to the tone and narrative style of Thomas Hardy's ultimate tragic novel Jude the Obscure, this British period drama follows the hopeless attempts of a bright country boy to realize his dream of attending a university.
Audience Reviews for Jude
Only because of Kate Winslet do I round this up to four stars. One of the strongest actors working in film today, she is radiantly beautiful, even in this overpoweringly sad adaptation of Jude the Obscure by Thomas Hardy. This viewer felt as though this were the Cliff Notes version of Hardy's weighty tome. So much of this seemed glossed over, with Jude's (Christopher Eccleston) seduction by, marriage to, and separation from Arabella (Rachel Griffith) taking place in the first ten minutes. The whole film came off that way. Maybe this suffers from comparison to the last film this viewer watched (and reviewed) which chose an entirely different approach to a long novel and achieved a brilliant result. The defining tragedy here nearly broke this viewer's heart, but was telegraphed long before the actual events unfolded. Whether this was the fault of the filmmakers or is inherent to the novel is irrelevant. One wonders why this film had to be made. Still, it was nice to see both Rachel Griffith and Kate Winslet, even if the film was less than satisfactory.
Mark Abell
Super Reviewer
½
Dry and a rather borefest, worth watching only for Kate Winslet's naked body.
Jason Owens
Super Reviewer
½
meh. It was really sad. the film felt squashed together and I felt that they made things difficult for themselves. It is very hard for me to believe that it would be this hard to be together.
Marion Ravenwood
Super Reviewer