Judge Priest
(1934)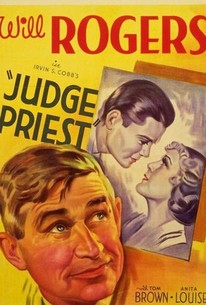 Movie Info
Will Rogers stars as Judge William "Billy" Priest, the common-sense Kentucky jurist created by humorist Irvin S. Cobb. The Judge's easygoing manner bothers many of the self-righteous good citizens of his small 19th-century hometown, imperiling his chances for re-election. The anecdotal plot boils down to a single storyline involving orphaned Anita Louise, reclusive David Landau (secretly Louise's father), and young attorney Tom Brown.The testimony that saves Landau from a murder charge is delivered by Civil War veteran H.B. Walthall, whose stirring loyalty to the Confederacy inspires everyone in town to organize an impromptu parade! Some of the best scenes are highlighted by Will Rogers' affectionate rapport with stereotyped black-actors Stepin Fetchit and Hattie McDaniel, though these scenes are frequently removed from TV showings of Judge Priest due to their undeniably racist overtones. If you haven't guessed by the first frame of the film that John Ford was the director, you'll recognize Ford's personal stamp the moment Will Rogers kneels by his wife's grave and carries on a warm conversation with his long-departed bride. Ford would remake (and improve upon) Judge Priest in 1953 as The Sun Shines Bright, with Charles Winninger as the judge.
Critic Reviews for Judge Priest
Audience Reviews for Judge Priest
Ugh! What a piece of slug. Racist even by 30's standard and syrupy sweet to boot. Stay away!
Surprisingly humorous social drama featuring the indomitable Will Rogers in the title role. Often cited as John Ford's favorite film, Judge Priest is part Western, part Courtroom Drama and part Depression-Era Escapism. Good stuff.
Randy Tippy
Super Reviewer
Judge Priest Quotes
| | |
| --- | --- |
| Judge William "Billy" Priest: | I'm just an old country jake who's kind of a baby kisser. |
| Judge William "Billy" Priest: | I'm just an old country Jake who's kind of a baby kisser. |