Jukgeona hokeun nabbeugeona (Die Bad)
(2005)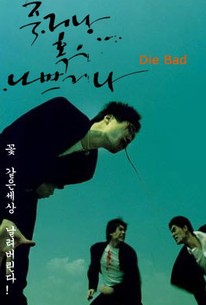 AUDIENCE SCORE
Critic Consensus: No consensus yet.
Movie Info
"Die Bad" is an inventive feature made up of four distinct episodes, each with their own style. With their criss-crossing characters and themes, they add up to a fairly comprehensive account of the causes and effects of male aggression, both tribal and individual.
Critic Reviews for Jukgeona hokeun nabbeugeona (Die Bad)
There are no critic reviews yet for Jukgeona hokeun nabbeugeona (Die Bad). Keep checking Rotten Tomatoes for updates!
Audience Reviews for Jukgeona hokeun nabbeugeona (Die Bad)
This is a film that will probably end up being different from what you imagine it to be. A violent movie told in an interesting way.
The plot for this film is made up of 4 stories. Each story is basically a chapter that makes up a part of the movie as a whole. What makes this even better is that the stories are intertwined because of some of the characters and their relationships. Just think of a Tarantino movie without the great dialogue, writing, and direction.
The first story is basically a high school punk fight. Nothing really special here. The second story, or chapter, is where the movie really starts. It is a slow crime drama, if you will, but it is told like a horror/suspense. After that the third story is one long brawl between two characters in a parking garage. The interesting thing about this one is that it is told in the style of a documentary. The final story deals with cops and gangsters and this is the most violent of the three. It isn't that gory though since the final story is shot entirely in black and white. All in all, the story isn't that bad and you are thrown different styles and characters with each chapter.
The international title of this film is Die Bad, which is the title of the last story as well. The title is fitting since this film is violent. More than half the film is people duking out. The fighting is actually pretty good too. They are realistic brawls, but there is just a hint of martial arts in there as well. As far as the gore is concerned, you don't have to worry about that until the final story, where it is really bloody. As I mentioned earlier though, it is shot in black and white.
The acting isn't too bad. The most memorable performance comes from Seung-beom Ryu, of Arahan fame. He does a good job at being a punk one minute and a complete wuss the next. There is even an appearance by Doo-hong Jung.
While better cinematography and lighting at times would really improve this film, it is still a decent watch if you are in the mood for a violent crime drama.
Jukgeona hokeun nabbeugeona (Die Bad) Quotes
There are no approved quotes yet for this movie.