Jules and Jim
(1962)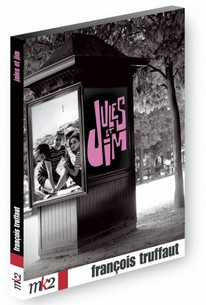 TOMATOMETER
AUDIENCE SCORE
Critic Consensus: Francois Truffaut's arguable masterpiece in a filmography full of masterpieces ready to be argued for, Jules and Jim is an eternal ode to boundless love.
Movie Info
Acclaimed French director François Truffaut's third and, for many viewers, best film is an adaptation of a semi-autobiographical novel by Henri-Pierre Roché. Set between 1912 and 1933, it stars Oskar Werner as the German Jules and Henri Serre as the Frenchman Jim, kindred spirits who, while on holiday in Greece, fall in love with the smile on the face of a sculpture. Back in Paris, the smile comes to life in the person of Catherine (Jeanne Moreau); the three individuals become constant companions, determined to live their lives to the fullest despite the world war around them. When Jules declares his love for Catherine, Jim agrees to let Jules pursue her, despite his own similar feelings; Jules and Catherine marry and have a child (Sabine Haudepin), but Catherine still loves Jim as well. An influential film that has grown in stature over the decades, Jules et Jim was often viewed by the counterculture of the 1960s as a cinematic proponent of the free-love movement, but in actuality the picture is a statement against such a way of life. Despite the bond shared by Jules, Jim, and Catherine, their ménage à trois is doomed to fail; and Catherine's inability to choose between the two men leads to tragic consequences for all three.
News & Interviews for Jules and Jim
Critic Reviews for Jules and Jim
Audience Reviews for Jules and Jim
A breath of fresh air for its time, Jules and Jim now remains an admirably-constructed and well-acted, but far too repetitive love triangle movie.
Sam Barnett
Super Reviewer
I liked this movie, and I enjoyed watching it, but I was left expecting more. As part of the French New Wave, I knew to expect this film to be overflowing with style and technique, but I also expected it to be fun. Maybe I shouldn't have been so insistant on that last part. This film is fun, at times, but it gets serious too, and when it does, I find it harder to swallow. Maybe because it's hard to completely identify with or care deeply about the characters. This story is all about an Austrian named Jules who is friends with a French guy named Jim. They share a mutual love for a (probably bi polar) woman named Catherine. The story takes place over a coupkel of decades from the 1910s to the 1930s, and hops all over Europe (mostly France and Germany). I don't mind love triancgle movie, but the way the story progresses seemed very odd and all over the place and unlkely. Also, this is a period piece, but I never really got that sense. It seemed more like the time it was released than the time it was supposed to be portraying. Because this film is style over substance, and because the characters are nuts, ridiculous, and hard to identify with ocmpletely, I should, by all rights, knock this down a notch or two. However, the film has a gorgeous look, great camera work, wonderful music, good performances, and the aforementioned style, so there. I do recommend this movie, despite it being overrated. Part of its importance and legacy and undeniable and understandable, but this film is a bit of a mess. It's not always apparent though since often this film is light, breezy, and not restricted by a super dense plot. See it, but don't expect it to be the masterpiece that many claim it to be.
Chris Weber
Super Reviewer
½
Frenetic, fresh, and still fun to watch even as it approaches it's fiftieth birthday. While certainly the most stylish of the New Wave films that I have seen so far, the frequent use of freeze frames, jump cuts, and panning shots, surprisingly isn't distracting. In fact, Trauffaut's use of these devices is very judicious and really elevates the film as a whole. This sets the work apart from films such as Goddard's Breathless where it seemed at times that many of the devices used in the film were used because they were "cool" or different, rather than augment the power of the story. It is a dynamic rumination on friendship, love, war, and the changing nature of femininity, and certainly one not to be missed.