Julien Donkey-Boy
(1999)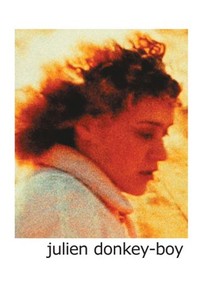 TOMATOMETER
AUDIENCE SCORE
Critic Consensus: Director Harmony Korine takes a big stylistic swing that will miss with most audiences, producing an unfocused and mean-spirited art film with a bitter aftertaste.
Movie Info
JULIEN DONKEY-BOY is about a schizophrenic who gets a job as a teacher in a school for the blind.
Critic Reviews for Julien Donkey-Boy
Audience Reviews for Julien Donkey-Boy
Disconnected scenes from the life of a mentally disturbed lad and his bizarre family, shot through a shcizophrenic camera. As stylistically annoying as Korine's other movies, but also uncharacteristically boring; very little happens, and Julien is not an interesting character.
½
*** out of **** You know, the longer I go on in life; the less faith I develop in the opinions of professional movie critics. Here we have wealthy consumerists who get paid to evaluate art. We do need such people - as I feel they keep the entertainment industry in order - but too often do people look to them for complete guidance. When it comes to movies like those of Harmony Korine - which the critics tend to revile - I think it would be wise of most viewers to see the movie and think for themselves, regardless of what the individual thinks. Of "Julien Donkey-Boy", critics have written such things as "this movie could make you physically ill" or even "a self-indulgent mess". It would be easy to go along with these opinions and write it off as the latest in low-budget cinematic freakshow filmmaking; if one can call it that. I've always been a free-thinker and a free-spirit, so naturally I like what I like and let others who don't enjoy what I do be. The critics pretty much hated Korine's debut, "Gummo", although I found it moving and intriguing. It would seem that a good portion of the American public has made it a tradition to bash anything that is almost profoundly and unmistakably different. But since when is different a bad thing? An art-house/independent picture can either be pretentious and self-loving, or it can be highly personal and even fascinating. The latter is most definitely the case with Korine's second feature; which is even more personal than "Gummo" and perhaps even a little bit better. Yes, they are both strange and - to put it lightly - polarizing works of art; yet I'm calling them works of art in the first place, and that's all that should matter. Because you know what; I like strange. I like strange when there is a point, and sometimes even when there isn't. The film is full of symbols and images that are both startlingly beautiful and deeply disturbing; some things mean something on sight, other things don't. You either let it be and admire the many still photographs and sequences for their uniqueness or you start plucking the hairs straight from your head. The titular character, played wonderfully by the immensely talented Ewen Bremner, is an untreated young man with schizophrenia, living in a run-down suburban home and neighborhood with his family. He's not terribly old, but he hasn't made any attempts to lead a normal life; and neither has anyone else that lives under the same roof as him. Those who occupy his home include his abusive father (Werner Herzog), his brother (Evan Neumann) who has aspirations to become strong and make his living as a professional wrestler, his grandma, and his sister Pearl (Chloe Sevigny). The film is told through Julien's eyes, as he tries to make it through life one day at a time. He spends a lot of time taking walks, bowling with a group of friends, and attending mass at a local church, and then others. The Herzog father figure is less of one than I would ever hope to encounter. He pressures Julien's brother to put on more weight; and then constantly subjects Julien to torture and abuse of both the physical and mental variety. He also dances to Dock Bocks and wears a gas mask. Pearl, on the other hand, has a baby on the way (it is heavily implied that it is Julien's); and grandma, well, she exists. But then again, what else would these strange characters do? I would not recommend the film for mainstreamers. I would not recommend any art-house or Harmony Korine directed film for that audience. But there is a crowd that appreciates these sorts of films; and it's aimed right at them. More than likely, they've already discovered "Julien Donkey-Boy" and love it; or at least that is what I hope. For me, I agree with the common comments on the film being a little bit freaky and endlessly strange; but pointless it is not. Once again, Korine crafts scenes that are emotionally moving, frightening, perturbing, and sometimes even funny. Most of the time, they're just down-right bizarre - like a little vignette where an armless handicap owns Herzog at a game of cards - and then others struck me as kind of touching (the last twenty minutes, in which Pearl has a miscarriage at an ice rink). You can look at the scenes that I like as meaningless and emotionally devoid segments; or you can choose to absorb them with an open mind, take them in, and let the emotions flow through your body, mind, and soul. At best, the film represents a sense of emotional maturity in Korine's thematic elements. The film itself was dedicated to Korine's schizophrenic uncle; inspired perhaps by the experiences and memories that the director had of the man. As with "Gummo", "Julien Donkey-Boy" is shot almost entirely in a minimalist style, although here I think Korine takes minimalism to all new extremes. The film was created with the Dogme 95 rules in mind; so every prop was found on location, and no flashy effects. The film was shot with a MiniDV Tape, and through a few transfers it achieved a very grainy visual look. The style brings the viewer all the more closer to the madness unfolding onscreen; which is why I find it to be so effective. No, I'm not sucking up to Harmony Korine; but I do find him to be a very misunderstood and intelligent filmmaker. No doubt, he was still experiencing problems with drugs and alcohol during the making of this gem; but you've got to get the inspiration for zaniness somewhere. I can imagine Korine getting his ideas whilst taking the sort of stroll that Julien often takes to calm his complex nerves. To him, such a thing might be bliss.
Ryan Marshall
Super Reviewer
Overwhelming, sickening, powerful, beautiful, hideous. What Harmony Korine has brought to the screen is beyond description. I don't speak for the masses with my high rating, and this is not a film I would recommend to very many people. Nevertheless, it had a great deal of impact on me and I don't think I'm going to forget it anytime soon. This piece has some of the best naturalistic acting I've seen from Ewen Bremner, Chloë Sevigny and Werner Herzog. Korine takes the kind of experimental approach in Gummo to a new level, producing a work that is wild and wholly original. I was absorbed in his vision and I was rewarded for allowing myself to be pulled into its oddness. Don't complain to me if you see it and you hate it. I personally love it.
Julien Donkey-Boy Quotes
There are no approved quotes yet for this movie.