Jumeogi unda (Crying Fist)
(2005)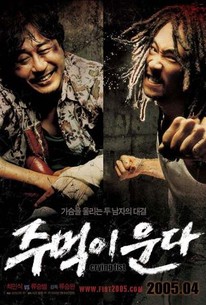 AUDIENCE SCORE
Critic Consensus: No consensus yet.
Movie Info
After the success of the modern-day comic martial arts epic Arahan, writer/director Ryu Seung-wan changed gears and again teamed up with his brother, actor Ryu Seung-beom, to produce Crying Fist, a much more serious boxing drama. Actor Ryu plays Yu Sang-hwan, a street thug who rejects the life of his hard-working, struggling father for a life of petty crime and run-ins with the law. He winds up in a juvenile detention center, where he responds to some bullying by flying at the bully, Roc (Kim Su-hyeon), and biting his ear off. Yu is then taken under the wing of the prison's boxing trainer, and he learns a bit of self-discipline through boxing, gradually recognizing his own strengths, and eventually acknowledging the support of his caring family. Meanwhile, 40-year-old Kang Tae-shik (Choi Min-sik of Oldboy), is a washed up former champion whose home and professional life have completely fallen apart. His wife leaves him, taking their young son. Besieged by creditors, Kang earns a meager living by charging people on the street for the privilege of punching him out. In danger of losing his son forever, his own health deteriorating rapidly, Kang decides to enter one last boxing competition, the same one which the equally desperate Yu has chosen to show his mettle. Crying Fist won a FIPRESCI Award at the 2005 Cannes Film Festival, and had its North American premiere at Subway Cinema's 2005 New York Asian Film Festival, with director Ryu in attendance. ~ Josh Ralske, Rovi
Critic Reviews for Jumeogi unda (Crying Fist)
Audience Reviews for Jumeogi unda (Crying Fist)
½
[img]http://images.rottentomatoes.com/images/user/icons/icon14.gif[/img]
Directors Cat
Super Reviewer
½
While closely operating under the limits of the sports/underdog genre, Crying Fist manages to step apart from other films of the like by creating bealiavable characters. Director Ryoo Seng Wan smartly plays with the conventions of the genre by placing not just one character for the audience to follow, but two. Each one with different problems, but both with the ambition to escalate from their current position to a much better one. Acting becomes a key point here, and both leads do a sharp job in portraying the frustations and personality of each. Choi Min-Sik, the man now with a page in film history thanks to his portrayal of Oh Dae Su in the epic Oldboy, plays a boxer who once tasted the glory of the sport, only to drop down thanks to his laziness and carelessness. In the other hand is Ryu Seung-Beom, who plays a young trouble-maker that needs something to focus his raw energy before combusting himself. The guy has his acting skills in place and manages to not let Choi Min Sik over-shadow him. The film follows familiar territory within the genre, but then again, because of the strong cast, and tight and controlled direction, the film never gets preachy or self-indulgent. These guys are not going to become world champions or anything like that, they are just looking for a chance to really start living their lives to the fullest. And that's what makes Crying Fist a fine drama and, unlike most of films dealing with boxing, it never becomes a cheap sentimental-cheering contest with the audience.
Tsubaki Sanjuro
Super Reviewer
This is an interesting boxing tale that follows not one, but two main characters (lead from Oldboy and the lead from Arahan). Both actors do a good job with their characters and the story really makes you want to see both actors come out a winner at the end. Both characters also never cross paths until the very ending of the movie.
Jumeogi unda (Crying Fist) Quotes
There are no approved quotes yet for this movie.