Jump Tomorrow
(2001)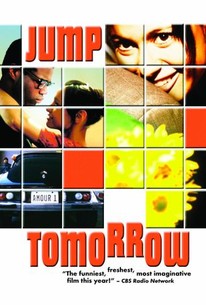 Movie Info
A lovelorn matchmaker tries to set up two people about to be married -- but not to each other -- in this independent romantic comedy. George (Tunde Adebimpe) is a Nigerian expatriate living in upstate New York, where he has pledged to marry a woman in a marriage arranged for him in childhood, though he's not especially enthusiastic about the idea. George goes to Buffalo to pick up his fiancée as she arrives in America, only to discover she's already moved on to Niagara Falls, where the wedding will be held in three days. On his way back home, an annoyed and downcast George meets Gerard (Hippolyte Girardot), a man from France who is wallowing in sorrow after being dumped by his girlfriend, and Alicia (Natalia Verbeke), a light-hearted Latin-American woman who is due to marry her fiancé Nathan (James Wilby) in less than a week. Alicia finds George amusing but thinks he needs to loosen up a bit, so she invites him to a party; George brings Gerard along, feeling he needs some cheering up, and Gerard notices an obvious attraction between Alicia and George. Gerard fancies himself an authority on matters of the heart, and is certain George and Alicia would rather be with each other than with the people they're engaged to marry, so joining George, Alicia, and Nathan for a trip to visit Alicia's parents en route to Niagara Falls, he hatches a plan to break Alicia and Nathan apart -- and bring Alicia and George together. Jump Tomorrow was shown in competition at the 2001 Sundance Film Festival.
Critic Reviews for Jump Tomorrow
Audience Reviews for Jump Tomorrow
What a sweet movie! It moves slowly, and in one sense it's predictable, but it's so simplistic that the smallest jokes earn the biggest laughs. A joy to watch, on one hand it feels like unorthodox film-making, and on the other it seems like the only difference between a major studio release and its relative obscurity was the financial backing... I could easily see Eugene Levy and Bill Murray doing this movie 10-20 years ago, but it might just be for the best that it is what it is. Great early work from Joel Hopkins (Last Chance Harvey), who I hope has hit his stride and will be rewarded with more work in the future. Seriously, watch this film, you'll love it without being able to explain it, it's great!
Daniel Perry
Super Reviewer
Jump Tomorrow Quotes
There are no approved quotes yet for this movie.