Jumper
(2008)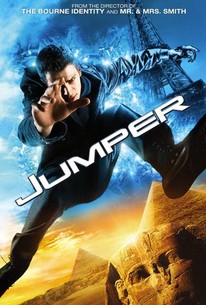 TOMATOMETER
AUDIENCE SCORE
Critic Consensus: Featuring uninvolving characters and loose narrative, Jumper is an erratic action pic with little coherence and lackluster special effects.
Movie Info
Following up his blockbuster action hit Mr. and Mrs. Smith, director Doug Liman turns to an entirely new genre -- sci-fi -- for this tale of an underground world of teleporters. Based on the novel by Steven Gould, Jumper concerns David (Hayden Christensen), a young man who quite literally wills himself away from his grim family life by teleporting to another place with the power of his mind. Years later, David is using his powers to raid bank vaults, seduce girls in London, lunch on the pyramids, and surf in Fiji. But he soon discovers that he is not the only one bestowed with this unique gift, and all is not well in the world of jumpers. There are people out there, such as Roland (Samuel L. Jackson), who view jumpers as a threat to all humankind, and have made it their mission in life to eliminate them. After jumping back to Michigan to get reacquainted with his long lost love, Millie (Rachel Bilson), David makes the acquaintance of experienced jumper Griffin (Jamie Bell). Informed by Griffin of a secret between jumpers and a shadowy group that seeks to destroy them, the pair soon finds themselves facing off against a legion of murderous opponents who won't stop fighting until every last jumper has been eliminated. ~ Michael Hastings, Rovi
Critic Reviews for Jumper
Audience Reviews for Jumper
½
A good concept that was executed poorly. The effects are bad and the writing is horrible. However, what seals this movies fate is the acting, which is detached to the point that is becomes impossible to care for what is going on. I almost feel bad for Hayden Christensen. First the Star Wars prequel trilogy, and now this.
Christopher Heim
Super Reviewer
Another Hollywood stupid comercial picture, trying to bring young characters and they problems, but that have big sucessful lives as subject, a very cliche subject.
Lucas Martins
Super Reviewer
Anywhere. Anything. Instantly. Saw it again! The movie was very good but it could have been better I dont know, maybe I was expecting too much from it and from the looks of it there might come a sequel. The concept of Jumping is something we have all thought about at one time or another, just like time travel. When i go to the movies i want to be entertained, this movie certainly did that!! A teenager from an abusive household discovers he can teleport from one place to another. He uses this ability to search for the man he believes is responsible for the death of his mother, drawing the attention of the NSA, and another kid with the same power.
Jumper Quotes
| | |
| --- | --- |
| David: | So what do you think? |
| Millie: | I think there's something you're not telling me |
| Millie: | I think there's something you're not telling me. |
| David: | What do you mean? |
| Millie: | This room, first class |
| Millie: | This room, first class. |
| David: | What about it? |