Jungle 2 Jungle
(1997)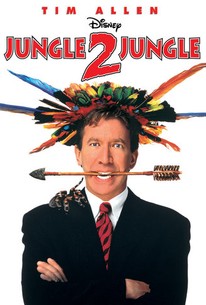 TOMATOMETER
AUDIENCE SCORE
Critic Consensus: Tim Allen spends Jungle 2 Jungle annoyed and put upon, mirroring audiences' reaction as they struggle through this witless family comedy.
Movie Info
This Disney comedy follows the misadventures of a work-a-holic New York coffee-bean broker and his newly-discovered son, who was raised in the jungle with his mother and a band of Indians. The bulk of the comedy centers on the son's struggle to adjust to the puzzling ways of city folk.
News & Interviews for Jungle 2 Jungle
Critic Reviews for Jungle 2 Jungle
Audience Reviews for Jungle 2 Jungle
Jungle 2 Jungle is the definition of a bad film. This film is awful, unfunny, poorly conceived. I remember when this film came out, I was 12 and obviously still into these types of films. Needless to say when this came out, boy did I think it was crap. The film was so poorly made, with a bad cast (Tim Allen wasted here) and a bad story with little or no jokes. This is simply a poorly made family film that is quite frankly impossible to enjoy as a family. Well, Disney has a knack for releasing awful films as well as good ones. But this is one of those awful films that they released that should be avoided. The film is plainly bad, and has nothing engaging about its plot, nothing to make you interested in what you're watching. This is simply put a bad family that isn't worth watching and if you did, is a most forgettable film to watch. I hated this film, hated the fact it was unfunny, hated the bad actors and bad plot overall. This film was a waste and it wasn't worth watching whatsoever. This film scraps the bottom of the barrel of bad ideas, and it's a film that doesn't deliver whatsoever. There are some sloppy comedic bits that simply aren't funny, and the script is plainly awful. This is one of the worst family films that I've seen, and this is simply a film not worth watching. Jungle 2 Jungle is a waste of celluloid and is utter garbage. I hated this film and the cast is pathetic along with the story. A crapfest from start to finish.
½
I actually liked this movie when I was a kid, I thought it was really funny, and it has some of the actors from Home Improvement. But now I see how stupid it really is. Overall it's a pretty good kids movie, though.
½
Good concept, not so good script, weak film.
Lucas Martins
Super Reviewer
Jungle 2 Jungle Quotes
There are no approved quotes yet for this movie.