Jungle Fever
(1991)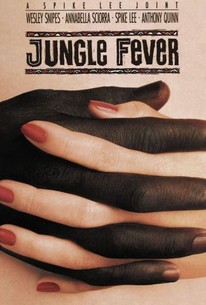 TOMATOMETER
AUDIENCE SCORE
Critic Consensus: Jungle Fever finds Spike Lee tackling timely sociopolitical themes in typically provocative style, even if the result is sometimes ambitious to a fault.
Movie Info
The romance between black architect Flipper Purify (Wesley Snipes) and his white office temp Angie Tucci (Annabella Sciorra) is the subject of director Spike Lee's Jungle Fever, a statement on interracial love and its effects on the society at large.
Critic Reviews for Jungle Fever
Audience Reviews for Jungle Fever
½
What we have here is Spike Lee's thematic sequel to Do The Right Thing. While ultimately an exploration of inner city life for different cultural, economic, and racial groups, the main focus is on the consequences, repercussions, and attitudes towards interracial relationships. The film has noble ambitions and aims, but a lot of the strength is undermined primarily by some surprisingly untimely music cues from Stevie Wonder and a really bloated, meandering run time. I liked how the film explored the issue of mixed dating from different viewpoints, but I found it odd how it neglects to really capture the situation from the perspective of the two main parties: a well to do black architect, and his working class Italian secretary. Aside from mixed dating, the film does take a more general look at big city life, with special attention paid to crack addiction. The film is extremely well shot, with some well used camera moves (including a ripping long take), and, despite being flawed, does offer a great amount of substance and food for thought. It also contains some terrific performances from a notable ensemble cast, which includes names like Wesley Snipes, Anna Sciorra, Anthony Quinn, Spike Lee, Ossie Davis, Ruby Dee, John Turturro, and briefer appearances from Brad Dourif, Tim Robbins, Queen Latifah, Halle Berry (this being the debut for those latter two), as well as a breakout turn from Samuel L. Jackson as the crackhead Gator. All in all, the film is kind of a mess, but it does have its moments, so yeah, give it a go.
Chris Weber
Super Reviewer
For some reason I don't seem to ever watch a Spike Lee film in one sitting. The only ones I did were Do the Right Thing and Clockers. I did two sittings for this one, it's not a bad thing, but I just feel a lack of concentration when he does extended intimate portraits on his characters. Anyways, this 'joint' didn't feel like it dragged on, nor did it feel too short but I felt by the end of it that the central theme was slightly forgotten about. I think that's because all the supporting characters (especially Samuel L Jackson) are just so much more interesting than the central two.
Hassan Vawda
Super Reviewer
This was made before I started sighing during Spike Lee movies. I thought the performances here were fabulous.
John Ballantine
Super Reviewer
Jungle Fever Quotes
There are no approved quotes yet for this movie.