Jungle Man
(1941)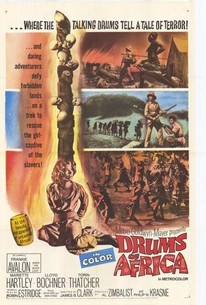 AUDIENCE SCORE
Critic Consensus: No consensus yet.
Movie Info
Buster Crabbe is a doctor, accompanying a shipment of fever serum to a remote jungle village. The ship is torpedoed by a U-Boat. Crabbe and his girlfriend Sheila D'Arcy are marooned on a small island. When D'Arcy falls ill to jungle fever, Crabbe heroically dives into the ocean to retrieve the serum. Its adventure quotient aside, Jungle Man has all the production expertise of an 8-millimeter home movie.
Critic Reviews for Jungle Man
Audience Reviews for Jungle Man
This feature has Buster Crabbe as a doctor in Africa attempting a cure for some disease like malaria. He's got a problem in that, for some reason, he needs the stuff produced in the U.S. and then shipped to his remote camp. "There's no laboratories in the whole continent of Africa," I wondered, but such was the fantasy we are asked to accept. The woman he likes gets the disease and so he has to go through extraordinary lengths to get the juice. As well, there are 2 tribes to keep an eye on: one tribe, the good blacks, are like children, the other tribe, the bad ones, want to eat white people. Oy. Jingoism-light, if that's what one spins one's prop. Charles Middleton, Crabbe's rival in the Flash Gordon serials as Ming the Merciless, herein plays his buddy, which is cool actually.
Kevin M. Williams
Super Reviewer
Jungle Man Quotes
There are no approved quotes yet for this movie.