Jurassic Park
(1993)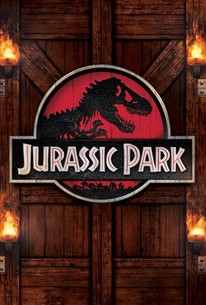 TOMATOMETER
AUDIENCE SCORE
Critic Consensus: Jurassic Park is a spectacle of special effects and life-like animatronics, with some of Spielberg's best sequences of sustained awe and sheer terror since Jaws.
Movie Info
Steven Spielberg's phenomenally successful sci-fi adventure thriller is graced by state-of-the-art special effects from the team of Stan Winston, Phil Tippett and Michael Lantieri from George Lucas's Industrial Light & Magic. The film follows two dinosaur experts -- Dr. Alan Grant (Sam Neill) and Dr. Ellie Sattler Laura Dern) -- as they are invited by eccentric millionaire John Hammond (Richard Attenborough) to preview his new amusement park on an island off Costa Rica. By cloning DNA harvested from pre-historic insects, Hammond has been able to create living dinosaurs for his new Jurassic Park, an immense animal preserve housing real brachiosaurs, dilophosaurs, triceratops, velociraptors, and a Tyrannosaur Rex. Accompanied by cynical scientist Ian Malcolm (Jeff Goldblum), who is obsessed with chaos theory, and Hammond's two grandchildren (Ariana Richards and Joseph Mazzello), they are sent on a tour through Hammond's new resort in computer controlled touring cars. But as a tropical storm hits the island, knocking out the power supply, and an unscrupulous employee (Wayne Knight) sabotages the system so that he can smuggle dinosaur embryos out of the park, the dinosaurs start to rage out of control. Grant then has to bring Hammond's grandchildren back to safety as the group is pursued by the gigantic man-eating beasts. ~ Paul Brenner, Rovi
News & Interviews for Jurassic Park
Critic Reviews for Jurassic Park
Audience Reviews for Jurassic Park
½
Steven Spielberg's prehistoric amusement is a sheer spectacle of breathtaking CGI and terrifying thrills. Jurassic Park is fun, concise, frightening and a visual treat. The film still stands the test of time as an advancement in effects and summer blockbusters. 4.5/5
Eugene Bernabe
Super Reviewer
"Jurassic Park" is one of those films that will always stand the test of time. This timeless film follows a team of scientists as they discover through dinosaur fossils that their DNA can be recreated. And so, their idea to open a park on an island to bring in families for their own viewing pleasure begins. This film, because of it's backstory, is very believable, and it is what most of today's big budget films are missing (a believable human element). I love every second of this film, from it's fantastic characters, to it's giant plot, to it's "larger-than-life" characters. This will forever be one of my favourite films. "Jurassic Park" is a phenomenal piece of filmmaking.
Steven Spielberg's 1993 "dinosaurs on the loose" action-fest is almost comparable to Star Wars in the way it opened audiences' mind to the possibilities of visual effects (particularly, the previously little-used CGI). Even by today's standards the CGI and animatronic effects still hold a candle to modern efforts, breathing vivid life and personality into the prehistoric beasts. Due to seeing this movie in the theaters at a young age, certain scenes such as the first T-rex appearance and any suspenseful sequence with the velociraptors are forever burned in my memory. But how does the actual movie hold up once the nostalgia goggles are taken off? Well, the film's biggest asset (aside from the entertaining visuals) is by far Spielberg's self-assured direction and it's tight pacing. There is very little wasted time when it comes to establishing the plot and key exposition points before diving into the awe-inspiring action sequences. Also, the touchingly emotional score by the ever-reliable John Williams is absolutely breath taking and is as iconic as the film itself. While never boring, this sci-fi adventure is little different from the "big dumb Hollywood spectacles" that infest modern-day summers. The characters are rather unremarkable and under-written. John Hammond, the fun-loving park manager that is played delightfully by Richard Attenborough, is the only person that goes through anything resembling an arc but even then it's nothing spectacular. The story seems mostly concerned with getting to the next action set piece as soon as possible with little breathing room for the characters to develop. Due to this, actors such as Sam Neil, Laura Dern, and Martin Ferrero are given very little to work with outside of clunky and cliché exposition-laden dialogue (the "show don't tell rule" is broken quite a few times in this film). Jeff Goldblum fairs a little better as Ian Malcolm despite being mostly regulated to one-dimensional comic relief, and meanwhile Wayne Knight gives way to some pretty funny moments. The script tries to bring up ethical questions pertaining to "science vs. nature", but it's half-baked and practically dropped by the time the second-half kicks in. It also does not help how the characters act very stupid at times (Malcolm during the T-rex's debut appearance) and some pretty blatant continuity errors (the T-rex somehow sneaking up on velociraptors despite previously making tremors wherever it went). In the end, this influential blockbuster delivers on its still-impressive special effects and infectious thrills, but stumbles with it's straightforward-to-a-fault narrative and thin characterization. While I'll always have a soft-spot for this flick, it's just a shame that as an adult what I remember so fondly makes up only a fraction of it's actual quality.
Christopher Heim
Super Reviewer
Jurassic Park Quotes
| | |
| --- | --- |
| Ellie Sattler: | Thats the illusion ! |
| Ellie Sattler: | That's the illusion! |
| | |
| --- | --- |
| Ian Malcolm: | Life uh.... finds a way |
| | |
| --- | --- |
| Ian Malcolm: | Your scientists were so preoccupied with whether they could, they didn't stop to think if they should. |
| | |
| --- | --- |
| Dr. Alan Grant: | Mr. Hammond, after careful consideration I've decided not to endorse your park. |
| John Hammond: | So have I. |