Jurassic World: Fallen Kingdom
(2018)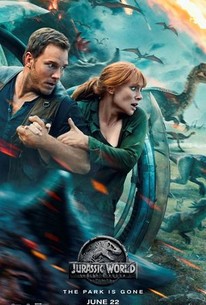 TOMATOMETER
AUDIENCE SCORE
Critic Consensus: Jurassic World: Fallen Kingdom adds another set piece-packed entry to the blockbuster franchise, although genuinely thrilling moments are in increasingly short supply.
Jurassic World: Fallen Kingdom Videos
Jurassic World: Fallen Kingdom Photos
Movie Info
It's been three years since theme park and luxury resort Jurassic World was destroyed by dinosaurs out of containment. Isla Nublar now sits abandoned by humans while the surviving dinosaurs fend for themselves in the jungles. When the island's dormant volcano begins roaring to life, Owen (Chris Pratt) and Claire (Bryce Dallas Howard) mount a campaign to rescue the remaining dinosaurs from this extinction-level event. Owen is driven to find Blue, his lead raptor who's still missing in the wild, and Claire has grown a respect for these creatures she now makes her mission. Arriving on the unstable island as lava begins raining down, their expedition uncovers a conspiracy that could return our entire planet to a perilous order not seen since prehistoric times.
News & Interviews for Jurassic World: Fallen Kingdom
Critic Reviews for Jurassic World: Fallen Kingdom
Audience Reviews for Jurassic World: Fallen Kingdom
While the tone is obviously darker and more ominous Jurassic World: Fallen Kingdom is nearly extinct with its inconsistent plot, forgettable characters and near-mirror-image of its previous sequel. Though Pratt and Howard command the screen with the brilliance of its CGI'd-prehistoric creatures it falls flat comparable even to its previous installment. 3.35/5
Eugene Bernabe
Super Reviewer
½
K so this happened, the legendary Spielberg franchise churned out its fifth movie and actually turned into cheesy B-movie schlock. Did I say turned? I meant deteriorated. So here we go again. The island of Isla Nuba is gonna be destroyed by a pending volcanic eruption and there is a debate about whether the dinosaurs should be saved or not. Naturally despite the US Senate deciding to allow the dinosaurs to perish some do-gooders take it upon themselves to try and save them anyway (must be part of the 'resistance'). But low and behold the people who claim to want to save the dinosaurs for a new sanctuary actually mean to sell them off to the highest bidders. These naughty humans have also created genetically modified dinosaurs too which will bring in even more money. And needless to say, the people who to buy these dinosaurs are all evil (and probably Russian, I dunno). Could you get more schlocky?? Alright so like some previous reviews I've done for these huge popcorn flicks I'm just gonna basically bullet point my thoughts because there is literally so much I could write it would go on forever. So straight away one of the key political narratives in this movie is the argument about whether the dinosaurs should be saved because they are living animals and deserve protection. Ian Malcolm (Jeff Goldblum) believes mankind should allow the dinosaurs to perish because nature has once again selected them to die off and that they were originally man-made so they shouldn't have been around in the first place. An opinion he has generally held throughout the franchise, that the whole idea was a bad one. Personally I agree with this because as said these creatures were man-made. Without our science and interference they wouldn't be alive in the first place so essentially letting them die off via natural disaster is a good way to end the 'project'. What bewilders me is the fact that our two protagonists, Owen Grady (Chris Pratt) and Claire Dearing (Bryce Dallas Howard), still want to save the dinosaurs and put them in a sanctuary somewhere...because that's worked out so well up till now. They both think these giant lumbering creatures can be looked after like regular animals despite [b]all[/b] the trouble thus far. They just don't seem to understand that dinosaurs cannot be contained and some will eat you. This is a huge flaw in the characters and it's annoying. Isla Nuba: The volcano erupts and we officially enter the schlock zone. Grady and Dearing manage to outrun the pyroclastic cloud. During this time the soon-to-be bad guys are off catching dinosaurs to 'rescue'. We never actually see how they do this, they just arrive at the ship with lots of captured dinosaurs of all shapes and sizes. Its also at this time we get our first (overly used) T-Rex money shot as it roars after inadvertently saving the protagonists (how many times guys? How many times). Sir Benjamin Lockwood: Who? Well alas Richard Attenborough died in 2014 and obviously director J.A. Bayona wanted another elderly character to oversee the new dino project. So now we have a John Hammond-esque character again, hurray! Turns out back in the day this duo worked together on Jurassic Park but fell out, hence we haven't ever seen him before (and not because he was just created for this movie). Northern California Estate: Jump to Lockwood's sprawling Addams Family-esque mansion in northern California complete with a moody wood-paneled Victorian-esque interior, a creaky dumbwaiter...oh and an underground lair with cages big enough to house large dinosaurs. It's basically a fecking castle. This is where the highly illegal activity of selling dinosaurs goes down in some ridiculous evening event for...[i]Bond[/i] villains? And yes I actually think some of these dastardly people were actually Russian. It seems these people want to buy dinosaurs for various reasons such as hunting, but the main reason is, of course, the old weapons notion. Yep apparently these guys think that dinosaurs would make great future weapons, [i]'the perfect weapon'[/i]. This literally makes no sense to me, how the flip is a dinosaur the perfect weapon? Why go to all the trouble of trying to train a deadly man-eating dinosaur (possibly with attached weapons?) for the purpose of warfare when you can just use highly skilled men. You can't rely on the dinosaur not killing you. You can't rely on the dinosaur not running off on a mission. And although a dinosaur can probably kill lots of people, surely men with guns can kill more? And surely a dinosaur isn't exactly invincible either, its a living creature, it's not bulletproof. Its here we also get introduced to the new genetically-modified dinosaur with all the bells and whistles (but still not bulletproof, although apparently tranquiliser proof). Naturally said dinosaur eventually gets out and kills everyone as we proceed to the second half of the movie, 'Resident Evil: Dino Hunt'. Yes it's around this point that the movie legitimately becomes a monster B-movie as the dinosaur chases people around the dark mansion (and on the rooftops). Cue lots of near misses as the dinosaur goes for the kill (always an object in its way). To really double down on the whole [i]Resident Evil[/i] theme we see that Lockwood has a young granddaughter. Spoiler alert, turns out she's a clone. It seems Lockwood got carried away with the whole replication of DNA and cloned his dead daughter, which in turn caused the split with Hammond. Towards the finale the Velociraptor known as Blue (transported from Isla Nuba) is released and helps Grady and co by attacking the new modified dinosaur. Cue lots of furious CGI and the second money shot in the exact same pose we've seen before with the T-Rex, only this time with the Velociraptor (Jesus Christ!). In the end both dinosaurs fall off the roof and through a window whilst fighting. Luckily the evil dinosaur is impaled on a statue, phew! Oh and then in the end when everything has settled, Dearing has a chance to free the remaining dinosaurs into the wild (of America) otherwise they'll get gassed to death (the results of the aftermath of the dinosaurs breaking free under the mansion). Thankfully she hesitates and doesn't, realising that would be a bad move. But then Lockwood's cloned daughter calmly does it anyway because she's a stupid kid. So all in all its a pretty surprising drop in quality really. This used to be an epic franchise, a Spielberg franchise, a step above the rest. But now its been dragged through the mud with multiple sequels that have gotten worse and worse until we are left with a cheesy monster movie that wouldn't look outta place in the [i]King Kong[/i] universe. The effects are impressive of course but its a drab looking movie loaded with annoying callbacks to the original movie. The dinosaurs are now free in the US so one can expect a very familiar third movie soon. I'm guessing the only thing they can do now is round all the dinosaurs up and move them back to site B? (remember that? Its still out there).
Phil Hubbs
Super Reviewer
½
Where the park provided a sense of wonder for many films of the franchise, the latest installment just sends it all into fiery hell with a big volcano catastrophe. That's spectacular and with great special effects but even at this point already, the films tone is odd at times. Pratt's delivery has been more on point in other projects, but at least his chemistry with Howard works. The second half of the film, which combines the horror tropes of the lab and scary mansion with the dinosaurs feels like a very strange setting. I imagine few viewers signed up for Jurassic Mansion. There are a few Spielbergian thrills here or there and the film is entertaining in every second, but overall, the title almost feels like false advertisement.
Jurassic World: Fallen Kingdom Quotes
There are no approved quotes yet for this movie.