Jury Duty
(1995)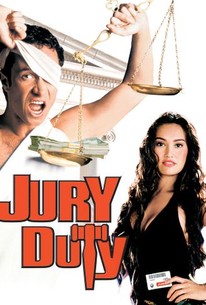 Movie Info
Needing a place to stay, a young slacker signs up for jury duty on a complicated case so he can be sequestered in a nice hotel in this broad comedy. Having no place else to go, he purposefully delays the case, much to the frustration of the other jurors.
News & Interviews for Jury Duty
Critic Reviews for Jury Duty
Audience Reviews for Jury Duty
Another goofy terrible movie by Pauly Shore. Jury Duty is more one bad Hollywood comercial comedy. A exemple of "Fast Food Junk Movie". Rotten.
Lucas Martins
Super Reviewer
Jim Careter
Super Reviewer
One must wonder how it came for an "actor" like Pauly Shore to make the amount of film that he's made and with his utter lack of talent, still find work. But Jury Duty along with Bio-Dome would signal the end of Shore's career. Jury Duty is a mess of a film. I don't even know where to start. The acting is horrid, the story is paper thin (luck all of Shore's films), the development is crap and the overall film is awful. It's no wonder that Shore's career ended soon afterwards. I guess after Bio-Dome they finally realized how bad he was. Jury Duty is virtually laugh free, with no chuckles to be had. If you're looking for one of the worst comedies ever filmed, then this would be a place to start. This film was boring, and uninspired. After Jury Duty and Bio-Dome, it's no wonder that audiences were tired of Pauly Shore. This is a sad attempt at making a comedy, and it fails on so many levels. The film strangely enough, had a fairly good idea. But this just goes to show that when you miscast a lead, your film will be terrible. If someone that was actually funny was cast here, then maybe it could've worked. Add to that a few script rewrites, and maybe, just maybe this comedy would have been a good one. But alas, it's not. The film scraps the bottom of the barrel, and ends up being annoying with its repetitive style of humor. Stick with Encino Man and Son in Law; those are two rare examples of Pauly Shore being sort of funny. But pass up on this one, simply a terrible film.
Jury Duty Quotes
There are no approved quotes yet for this movie.