Just Before Dawn
(1981)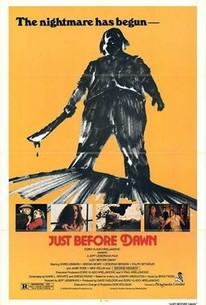 AUDIENCE SCORE
Critic Consensus: No consensus yet.
Movie Info
Director Jeff Lieberman followed his horror-science fiction film Blue Sunshine with this effort, which rehashes many of the themes explored in Wes Craven's seminal horror work The Hills Have Eyes. The plot concerns a teenage land owner who heads for the mountains of Oregon with a deed to his new property and an RV full of young friends only to discover (to their extreme peril) that words on paper mean less than nothing up there... or, in the words of horticulture-loving park ranger George Kennedy, "Those mountains can't read, son." By nightfall, the youths learn the gravity of this warning, as they are set upon by a hulking Mongoloid in a knit cap and pilot's glasses who seems capable of being in two places at once.
Critic Reviews for Just Before Dawn
Audience Reviews for Just Before Dawn
Just Before Dawn can be seen as an obscured gem in the Slasher genre. Released in the early 1980's, Just Before Dawn barely made a ripple in the thriving Slasher genre of the early 80's. I think this is a great shame because upon watching this film, you realize that Just Before Dawn is not like your typical Slasher film that relies solely on the blood and guts routine. Yes, there's some bloody killings, but it's pretty minimal stuff. What makes this Slasher film better than most is the fact that the director uses creepy atmosphere with a slow buildup to create the tension, and that is the key to why the film works so well. Just Before Dawn limits the violence the violence factors and uses more convincing tactics i order to build the horror in the viewer, that's where the eerie atmosphere, suspense and dark and creepy film score come into play. These are some of the elements that made Halloween such an effective horror film, and director Jeff Lieberman has crafted something that is quite frankly better than many of the big slasher films that came out during this period. Just Before Dawn, along with Halloween proves that you don't need massive amounts of blood and gore to create an effective, and terrifying Slasher film. With the right elements you can create something spooky that will deliver the thrills that horror fans crave dearly. A well crafted atmospheric slasher film that delivers good acting, great scares with good bloody kills, and doesn't try to go overboard either. A must see for Slasher film fans.
A 1980 Slasher movie that has Drive-In written all over it. 5 young people take a camper into the mountains of California only to stumble upon a man running thru the woods claiming his buddy has been murdered. Does this turn them back, nope, even after park ranger George Kennedy tells them not to go up on the mountain, but one of the young people hold a deed to the property and he is going. So begins a want to be Jason running around the mountain killing people. Some beautiful scenes of 2 beautiful women of the 1980 era, Jamie Rose who we see topless shots of while in the lake and a got more beautiful as she grew older Deborah Benson. Its not the best slasher movie, might have been top notch in 1980 but I can only give it a 3 star rating today.
Bruce Bruce
Super Reviewer
Wrong Turn without the action, blood and suspense. Good location and decent acting however I found myself bored a lot of the time. Not gory at all nor good slash just the opening death worth watching.
Just Before Dawn Quotes
| | |
| --- | --- |
| Roy McLean: | What is a demon to you mister? |
| Ty: | Tall... bigger than you. Built, built like that mountain up there. It had Vachel's hat and vest on, it had death in it's eye. |
| | |
| --- | --- |
| Ty: | There's been a murder, my nephew Vachel. |
| Roy McLean: | Who did it? Who did it?! |
| Ty: | Demon. Gonna get those kids too. |
| Roy McLean: | You saw those kids? |
| Ty: | They wouldn't listen. I tried to warn them, they wouldn't hear it. |