Just Between Friends
(1986)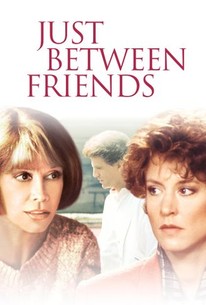 Just Between Friends Photos
Movie Info
A timid aerobics instructor learns that her new best friend is also her husband's mistress in this domestic drama starring Mary Tyler Moore. Suffering from a bit of empty-nest syndrome as her children pass through adolescence, indecisive homemaker Holly Davis (Moore) reluctantly accepts a part-time gig teaching exercise classes for frazzled gym owner Helga (Salome Jens). There, she meets struggling, independent-minded broadcast journalist Sandy Dunlap (Christine Lahti), and they quickly become thick as thieves. As it turns out, though, Sandy is actually an adulteress -- she's engaged in a clandestine affair with Chip (Ted Danson), Holly's seismologist husband. Chip loves both women and wants to continue seeing Sandy, but she breaks things off with him now that she knows his wife. When Chip dies suddenly, Sandy helps Holly cope and finances phase two of her life as the new owner of Helga's aerobics center. Unfortunately, though, evidence of Chip's infidelity lies around just waiting to be discovered. In the end, it's up to Chip's friend Harry Crandall (Sam Waterston) -- who's been nursing a crush on Holly for years -- to help a pregnant Sandy and a heartbroken Holly come to terms with their complicated friendship. Just Between Friends marked the directorial debut of screenwriter Allan Burns.
Critic Reviews for Just Between Friends
All Critics (6) | Top Critics (2) | Fresh (2) | Rotten (4)
Dumb, dumb story but wonderful performers.
June 30, 2004 | Rating: 3/5

Watching this film is the damnedest experience because it labors over the smallest points of the most inconsequential scenes and then hurries past the big emotional climaxes.

Offers a fresh exploration of women's friendship which must bear many strains.
Audience Reviews for Just Between Friends
Just Between Friends Quotes
There are no approved quotes yet for this movie.