Just Cause
(1995)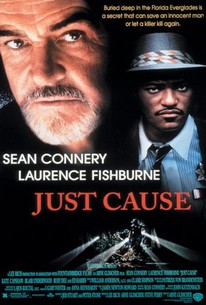 TOMATOMETER
AUDIENCE SCORE
Critic Consensus: Just Cause you round up a phenomenal cast, that doesn't mean you have everything you need for a solid legal thriller -- and this film is forgettable proof.
Movie Info
The novel by John Katzenbach becomes this legal thriller starring Sean Connery as Harvard Law School professor Paul Armstrong. A legal expert whose days of trying cases are long behind him, Armstrong is moved by a plea he receives from a Florida death row inmate, Bobby Earl (Blair Underwood). It seems that the educated, upstanding Earl has been railroaded by an overeager sheriff (Laurence Fishburne) zealously trying to solve the kidnapping and murder of a little girl. Once Armstrong arrives in Florida, he is able to locate the murder weapon and cast doubt on Earl's innocence, even identifying a much more likely culprit in the homicidal genius Blair Sullivan (Ed Harris). All is not as it seems in the case of Bobby Earl, however, and Armstrong is going to end up regretting his interest in the case. Ruby Dee, Kate Capshaw, and Ned Beatty costar in this film from producer-turned-director Arne Glimcher. ~ Karl Williams, Rovi
Critic Reviews for Just Cause
Audience Reviews for Just Cause
½
Go to any Walgreens across the nation and every month there's a new collection of mystery thrillers, usually by the same collection of authors, who churn out books like hamburgers: this film plays like those books read. A great cast and superior production values can't hide a factory produced script.
Kevin M. Williams
Super Reviewer
Buried deep in the Florida Everglades is a secret that can save an innocent man or let a killer kill again. Good movie. The movie didn't really surprise me that much and I have seen better but still I thought it was well made. It really seem like Sean Connery nail his part and Laurence Fishburne did allright too as a supporting actor. The year is 1986. In Ochopee, Florida, 11-year-old Joanie Shriver is kidnapped, raped, and murdered. Bobby Earl Ferguson is arrested by officers Tanny Brown and J. T. Wilcox, who proceed to beat Bobby into confessing to the murder. Bobby is placed on trial, where Bobby's defense attorney McNair puts up a lousy defense for Bobby, and Bobby is sentenced to be executed. Now, eight years later, Bobby hands a letter to his grandmother Evangeline and asks Evangeline to go to Cambridge, Massachusetts, to hire Harvard law professor Paul Armstrong to clear Bobby's name. At Harvard, Paul is attacking capital punishment in a campus debate, when Evangeline arrives and hands the letter to Paul. Paul goes home, where his wife Laurie is throwing a birthday party for their young daughter Katey. Laurie reads the letter and she encourages Paul to take the case, even though he hasn't practiced law in 25 years. Paul, Laurie, and Katey head to Florida, where Paul meets Bobby in the prison. Bobby tells Paul his side of the story and what Tanny and Wilcox did. Paul begins to believe that Bobby was railroaded. Bobby tells Paul to speak to Blair Sullivan, a man who is also on death row. Blair gives Paul some clues that could prove Bobby's innocence and Blair's own guilt. But in the process of trying to clear Bobby, Paul learns some disturbing truths about Bobby, putting Paul and his family in a fight for their lives.
½
Damn it, this was like "To Kill A Mockingbird" with the most predictable and silliest twisted ending. (Oops! I hope that ain't a spoiler. And if it is, I can only hope that you're not intelligent enough to predict it. But even a kid can tell that 2 + 2 = 4, and you don't need to be a genius for that. Anyway, if it did work as a spoiler for you, and thereby reduced the movie's entertainment value for you, I honestly plead your pardon.) But that wasn't good enough for them. So they put the characters through car chasing scenes followed by a fight. The fighting sequence only made it worse. Exactly as predicted, the character who is supposedly shot dead, returns in a typical filmy way at the nick of time to beat the villain. I was expecting some unique and interesting courtroom drama, but I guess I was asking for too much. This movie was a big time disappointment for me. And if you haven't seen this movie as yet, I hope I've provided enough just causes that will lead you to the conclusion that you better avoid this Just Cause. P.S.: The face of the sweet, young girl playing Katie Armstrong looked familiar, but I'd no idea whatsoever that it was Scarlett Johansson until I found it in the credits.
familiar stranger
Super Reviewer
Just Cause Quotes
There are no approved quotes yet for this movie.