Just Like A Woman
(1993)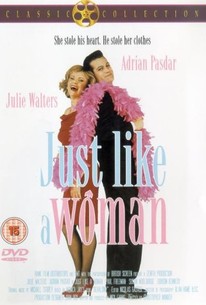 Movie Info
Just Like a Woman is a contemporary cross-dressing farce played as if it were a romantic comedy. But still, in the deep recesses of the celluloid, the narrator from Ed Wood's Glen Or Glenda can be heard intoning, "Remember, transvestites are not homosexuals." The story begins when businessman Gerald (Adrian Pasdar) is kicked out of his house by his wife, who discovers Gerald in the possession of a strange woman's underwear. After being cast out of hearth and home, he ends up living in a rented room at the home of fortyish divorcee Monica (Julie Walters). The two proceed to fall in love, and all is well until Monica spots a mysterious woman creeping upstairs to Gerald's room. When Monica investigates, it turns out that the mystery woman is, in fact, Gerald. Monica is taken aback, but only for a moment, and they continue their affair -- dresses, panties, garter belts and all. As one of Monica's friends points out to her, "It's 'is 'obby, luv . . . like golf . . .except you see more of him." Unfortunately, so does Gerald's boss, Miles Millichamp (Paul Freeman) who abruptly fires him for being a transvestite. But Gerald's firing affects his firm's negotiations with an important Japanese company and he must muster up enough fortitude to both straighten out his career and his panty hose. ~ Paul Brenner, Rovi
Critic Reviews for Just Like A Woman
All Critics (6) | Top Critics (3) | Fresh (3) | Rotten (3)
The film courts your sympathy for a practice more common than you'd expect, but by the same token it's very bland, skirting round the reasons why Pasdar likes putting on the glitz, and round the subject's darker fringes.
This is an enjoyable, entertaining film, reasonably plausible and, therefore, much worth viewing.
Audience Reviews for Just Like A Woman
½
A great movie! Very interesting take on a certain perspectative that not many people would like to think about, but its worthy of acceptance regardless. Love it!!
Just Like A Woman Quotes
There are no approved quotes yet for this movie.