Just Married
(2003)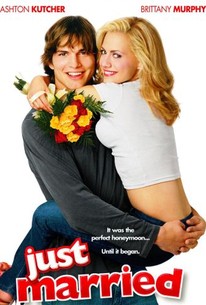 Movie Info
Can a new marriage survive meddling friends, disapproving families, and some of the worst accommodations in Europe? That's the question posed in this broad comedy. Tom Leezak (Ashton Kutcher) is a regular guy who likes sports and beer and tries to make ends meet working as a nighttime radio traffic reporter. Sarah McNerney (Brittany Murphy) is a beautiful young woman from a wealthy and privileged family who is trying to make a name for herself as a writer. Tom and Sarah have seemingly nothing in common, but that doesn't stop them from falling in love. Sarah's family doesn't much care for Tom's boorish ways, and Tom's buddies think Sarah is too highbrow for him, but, if anything, this makes the couple all the more determined to be together, and they decide to get married and head off to Italy for a month-long honeymoon despite the pleas of those closest to them. However, even after the knot is tied, Sarah's former beau, Peter Prentiss (Christian Kane), is dead set upon breaking up the happy couple, though as it turns out, a seemingly endless stream of bad luck and post-marital jitters may do the job for him. Just Married was written by Sam Harper, who claims to have loosely based the script on his own experiences on an ill-starred European honeymoon with his wife; fortunately, the couple's marriage survived the experience. ~ Mark Deming, Rovi
News & Interviews for Just Married
Critic Reviews for Just Married
Audience Reviews for Just Married
Haven't seen this in about ten years. Original rating was 4, have upgraded to 5. I think this really stands up as a rom com, and is still cute and funny. Brittany really was such a likeable actress.
Nicki Marie
Super Reviewer
½
Just Married is a decent comedy with a few good laughs, but it could have been done far better as well. The film had potential in doing something far better, and it does fall short. In the long run, this is a film that is worth seeing only once as the jokes become stale over multiple viewings. The idea behind the film was good, but the gags just didn't hold up. The cast do a decent job in their performances, but it simply doesn't make up for a great comedic experience. The film leaves room for improvement and it deliver some good laughs here and there but it could have been better. The film suffers from a lacking script that could have been rewritten a few times. Ashton Kutcher and Brittany Murphy do what they can with the material and they pull off something entertaining. Just Married is fun, but like I said it could have been better due to its interesting ideas. This is a decent film to watch when you have nothing else better to do, and it makes for a mindless viewing experience that brings on a few good laughs, and effective moments. However this is a forgettable film that since its release, there has been far better films in this genre. Worth seeing, but there are too many underdeveloped ideas on-screen to really make it a hilarious film that warrants rewatching again and again. Expect something slightly humorous, but keep in mind that the film had plenty of wasted potential as well. Just Married is not the best rom com out there, but it certainly isn't the worst. Funny in some areas, and sketchy in others, this is a film that doesn't try too hard at being something great due to a script that reveals too many lacking, uninspired ideas.
½
Semi-fun movie that's really not that good. Filled with smelly cheese. Little Josh Baskin from "Big" plays Ashton Kutcher's best man, he still looks the same which is weird because he's supposed to look like Tom Hanks now.
Lenny Muggsy
Super Reviewer
Just Married Quotes
| | |
| --- | --- |
| Sarah: | Tom u r acting crazy |
| Sarah: | Tom you are acting crazy. |
| Tom Leezak: | Maybe coz i just got hit in the head by a 10 pound ashtray |
| Tom Leezak: | Well, maybe it's cuz I just got hit in the head with a ten pound ASHTRAY! |
| | |
| --- | --- |
| Sarah: | Baby,just floor it |
| Sarah: | Baby, just floor it. |
| Tom Leezak: | I am flooring it...if i push any harder my foot would blow through the floor and we would be flinstoning our asses there |
| Tom Leezak: | I am flooring it. If i push any harder my foot would blow through the floor and we would be flinstoning our asses there. |
| Tom Leezak: | I am flooring it. If i push any harder my foot would blow through the floor and we would be Flinstoning our asses there. |