Justice League
(2017)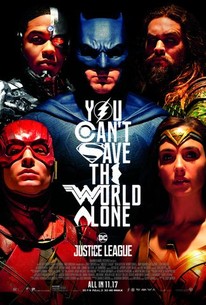 TOMATOMETER
AUDIENCE SCORE
Critic Consensus: Justice League leaps over a number of DC movies, but its single bound isn't enough to shed the murky aesthetic, thin characters, and chaotic action that continue to dog the franchise.
Movie Info
Fueled by his restored faith in humanity and inspired by Superman's selfless act, Bruce Wayne enlists the help of his newfound ally, Diana Prince, to face an even greater enemy. Together, Batman and Wonder Woman work quickly to find and recruit a team of metahumans to stand against this newly awakened threat. But despite the formation of this unprecedented league of heroes--Batman, Wonder Woman, Aquaman, Cyborg and The Flash--it may already be too late to save the planet from an assault of catastrophic proportions.
Critic Reviews for Justice League
Audience Reviews for Justice League
½
The idea of a superhero crossover film was taboo twenty years ago. Everything was standalone and that's the way we liked it. Honestly, did we even really know that we wanted to see more than one comic book lead in a film back then. I don't remember myself, but once Marvel began spoon feeding us these tiny cameos in their after credits sequences that became films that had full fledged teams of superheroes it seems as though a hole that we had as movie audiences was filled. Everywhere we look now we get the news that some studio is planning a "cinematic universe" to create an entire slate of films and more importantly revenue. The main competition on comic books news stands for Marvel has been DC for decades. Marvel has some iconic characters, but DC also has characters that have been a part of popular culture since the late 1930's. The thing is that the stars have never aligned to deliver a film featuring their own team called the Justice League, other than cartoons and an awful TV special back in the 1970's. They're now trying to play catch up with a definite hit or miss game plan as they enter their fourth film Justice League. The film follows an intergalactic threat named Steppenwolf (voiced by Ciaran Hinds) whose objective is to find three cubes called Mother Boxes that will turn the Earth into his home world. It's destroying to create, ala Genesis in the Star Trek II and III arc. This is a post Superman world and Batman (Ben Affleck) has decided to not be so homicidal and build a team to work together to battle evil across the globe. Wonder Woman (Gal Gadot), The Flash (Ezra Miller), Aquaman (Jason Momoa), and Cyborg (Ray Fisher) round out the Justice League as they prepare to battle the greatest threat to this world. The idea of a Justice League film would have gotten me excited ten years ago. Now, not as much as it should have mainly due to the poor delivery of films such as Batman v. Superman: Dawn of Justice (a marquee film that is a waste of stories and characters) and Suicide Squad (a film with a good concept, but no real antagonist). Wonder Woman bucked that trend with a film that is interesting and exciting, but there was still the feeling of dread when this newest DC film came to the local Cineplex. Even before an audience saw this film the troubled production left many without hope for how Justice League was going to turn out and the verdict is that it is nowhere near a perfect film, but it is a step in the right direction being better than BvS and SS. There isn't that dark despair that punctuated those two films and it feels more like a typical superhero film that actually takes a few beats and has some comic relief. One of my main complaints about Batman v. Superman is that there were no real breaks from the constant action and darkness of characters that were developed so many years ago. Justice League manages to get some laughs, breaking up the seriousness and tension of the film, mainly with Miller's timid portrayal of The Flash, and the general bad assery of Momoa's Aquaman. These characters are more like you would want, except for Wonder Woman who feels like she has been regulated to second fiddle in this film, a shame considering her solo film was such an exciting film. What causes the problems with Justice League lie in the story. Once again we get Steppenwolf and his collection of video game sprites for our heroes to fight throughout the film, which is something that really polluted Suicide Squad. The character is better than Enchantress, but in the end it feels like you're fighting thousands of the same thing, which has become a well dulled cliché. Then there's the Superman (Henry Cavill) issue. We all knew he was going to come back in this film after being dispatched in Suicide Squad. Sadly, it really isn't very momentous and seems a bit too easy. I know characters come back in comic books all the time, but this really doesn't gel with the rest of the film. The plus is that when Superman does work out his issues, Cavill plays the character more like we are used to instead of the brooding character that was really cutting into Batman's psyche territory. Justice League is a step in the right direction for the DC Extended Universe. It is an entertaining film that doesn't feel like a two and a half hour depression screening (thankfully they kept the running time at two hours). It is not close to a perfect film, but it does stand as a popcorn movie. I have had an appreciation of these characters for as long as I can remember, so they do hold a special place for me. Hopefully they can keep going in the right direction as they move forward.
Chris Garman
Super Reviewer
So this was it, the main event, the big one to rival Marvels 'The Avengers'. Only five movies in and DC (along with Warner Bros.) felt it would be a shrewd decision to whack out their superhero team-up flick, hmmm. This was always gonna be a hard sell with the performance of previous DC movies. Superman hadn't really set the world alight and the Suicide Squad was a nice idea that was badly executed. Wonder Woman of course did well (boosted by a political agenda) but that now seems like a flute more than anything. We hadn't had any stand alone movies for Flash, Cyborg or Aquaman up to this point, something that just felt totally wrong. So not only was this a sequel of sorts to the previous Superman, Batman and Wonder Woman offerings, it was also a slight origins kick off for Cyborg, Flash and Aquaman (despite previous cameos). Alas the plot is anything but fresh (its a superhero flick). A long long long long time ago on Earth, the evil supervillain Steppenwolf (stupid name) tried to take over the planet using three gizmos called Mother Boxes. He was beaten back by a whole team of other superhero types and said Boxes were hidden on Earth (if you wanna protect Earth, why not hide them elsewhere? Like in the far flung reaches of the universe). Much later in the present day the Boxes are triggered by the death of Superman? Or the presence of Superman? Are these things sentient beings? I have no friggin' clue but they activate and this gets Steppenwolf's attention. So he comes back to find the Boxes and try to take over the Earth to please his master Darkseid. Why he didn't just do this before I dunno, don't delve too deeply into this plot. Enter our team of heroes, the Justice League. First up its good old Batman (Ben Affleck), the leader who's super power is being very rich (his own words). Alas this comment really hits home because his presence is really kinda stupid. Why would you need a regular human dressed in bat armour in a fight with super powered aliens and metahumans? He provides them with some cool vehicles...which they don't need, umm...he also lets them kip at his place? Unfortunately Affleck also seemed to not care about this movie seeing as he clearly didn't wanna be there, and he looked tubby. When he takes off his batsuit the shirt he has on underneath also has a muscle structure built into it. Methinks they had to cover his actual physique. Then we have Supes (Henry Cavill) who is basically the same as before. Wonder Woman (Gal Gadot) who essentially struts around making smartass comments all the time. Apparently the success of Gadot's only movie has gone to her head because my God does she act smug for the whole time. The Flash (Erza Miller) is the obligatory comic relief which is enjoyable for what its worth but is at odds with the movies tone. Also where did he get that Nasa material to build his suit? Next up is Cyborg (Ray Fisher) who is another character that doesn't really fit here. Like what does this guy do? He's basically an agile Terminator, but it seems like he could be easily destroyed at any point. And lastly there is Aquaman (Jason Momoa), the final pointless character here unless you're fighting underwater. But wait, Aquaman seems to have powers on land in this movie too because plot necessities. One problem I had with this movie were the effects and general look of everything. Firstly its that same old drab, metallic, dark, shadowy atmosphere that DC (via Zack Snyder) has been pushing this whole time. The movie looks awful, the colour palette is terrible, and it all looks the same. Naturally there is abundance of CGI which is to be expected but again its poor and obvious looking, whilst having that strange DC/WB videogame-esque look to it. Did I mention the greenscreen? Oh my God it was horrendous and so very very obvious. The battle between Steppenwolf's army and the Earth defenders at the start was horribly dated looking. Almost all underwater sequences looked bad plus you couldn't really make much out. Steppenwolf himself looked like a character out of a [i]Mortal Kombat[/i] movie. And Cyborg was quite jokey looking at times, he looked like he was made out of tinfoil with a bad face job. I think the epitome of dross in this movie came when Aquaman surfed on a parademon whilst falling from a great height. He then crashes into a high-rise building, smashes all the way through it from top to bottom, and comes out surfing at the bottom with a grin on his face. This was literally cringeworthy cartoon garbage that also looked shit. The other main problem here was the entire movie simply being cheap. As in using dated tropes and cliches whilst being just plain stupid. Thing is this was somewhat expected with the characters you're dealing with. Aquaman, he's useless, he merely pops up to do stuff that involves water because he's the water guy. Oh everyone's about to be drowned by a huge tidal wave!! Enter Aquaman...hurray! Oh we need someone to hack into this computer control panel thingy and do some hi-tech computer type stuff? Enter Cyborg because he's the robot guy. Oh we need someone to get somewhere really quickly or rescue some people in the nick of time? Enter Flash because he's the fast guy. Batman turns up to every battle in some yuge mechanical battle vehicle (because otherwise he's useless)...and it gets wrecked instantly. Batman loses a lot of gear in this flick. Wonder Woman strolls out of every battle without even her lipstick being smudged, ugh! The acting was pretty dreadful across the board (except for Gal Gadot of course, because you can't say anything negative about her now). As said Affleck was clearly uninterested, Fisher swaggered as much as he could but was still awful, Momoa had big muscles and lots of hair, whilst the character of Steppenwolf was basically a live action pantomime. Of course there were numerous other characters throughout offering other actors a crack but its all cameo stuff really. A too many cooks situation basically, heck whilst the big finale battle was going down humanity was represented by one small family, probably because they literally couldn't fit anymore people in. All in all I really struggled to find anything positive in this movie. The small sequence where the team brings Supes back from the dead was quite enjoyable. It was fun watching Superman knock the team around; I especially liked the eerie moment Supes spies Flash whilst he's zooming in his superhuman speed zone. Although, I'm not really sure why Supes would fight the team after his resurrection. OK he's understandably disorientated but why does he see the others as threats? The opening Batman sequence was also nice and harked back to earlier Batman movies in tone and visuals. Twas also lovely to hear a very short burst of Danny Elfman's Batman 89 score in one scene. It was literally a few seconds but even that was enough to really swell the scene in terms of awesomeness and nostalgia. That's virtually it! That's pretty much the only bits in the movie that I genuinely liked. The rest of this effort felt very much like (ironically) a Joel Schumacher movie. Yes it is indeed that bad. The entire movie generally looks poor, the effects are very suspect at times (Cyborg), the greenscreen is some of the worst I've seen for some time, and the plot is generic as fuck. Add to that the even more generic villain Steppenwolf with his hordes of flying goggle wearing goblins, and a finale that was possibly the biggest anticlimax in years (considering the content we're dealing with here). And even now I still can't help but think Superman could of done this all on his own. Why is Batman, Wonder Woman, Cyborg and Aquaman even here?? Flash was probably the only other genuinely useful person. This really felt like bad a movie from the mid 90's. The bottom line, its ugly, dull and unbelievably uninspired.
Phil Hubbs
Super Reviewer
While there is finally some humor in the DC movie universe, the film suffers from the same problems that dragged the mediocre BvS down: The villain is a poorly animated CGI being that entirely kills any involvement in the story. You still come along for the characters, most of which are well portrayed. Especially Aquaman has some pretty good scenes and makes you hopeful for his coming own adventure. The story is neither particularly coherent nor interesting and Supie's return kinda meh. The showdown, once again, happens in an entirely fake CGI environment with the same fighting moves over and over. The result is still entertaining enough and sometimes even fun thanks to the actors, but one can't possibly say that this bunch of heroes doesn't deserve better films.
Justice League Quotes
There are no approved quotes yet for this movie.