Justice League: Throne Of Atlantis
(2014)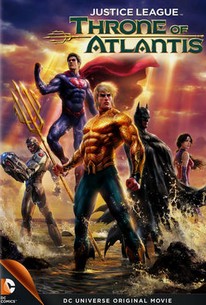 Justice League: Throne Of Atlantis Photos
Movie Info
In the aftermath of Justice League:War, the world is at peace or so it seems. When Atlantis attacks the Metropolis for the death of their king. But the Queen has diffrent plans and requires the Justice League to find her lost son. But while they search for him, Atlantian troops lead by Ocean Master, continue their assault. Who will win?
News & Interviews for Justice League: Throne Of Atlantis
Critic Reviews for Justice League: Throne Of Atlantis
Audience Reviews for Justice League: Throne Of Atlantis
It may be cliché-driven and slightly rushed, but Justice League: Throne of Atlantis' thorough animation, humor and entertainment is essential in the value of this DC-origin-adaptation, not to mention its swell action sequences, too. 4/5
Eugene Bernabe
Super Reviewer
A disappointing animated film from DC, Justice League: Throne of Atlantis continues the tale of the formation of the Justice League. After the death of Atlantis' king during Darkseid's invasion, Prince Orm blames the Justice League and plots a war against the overland; which leads the Queen to seek out her estranged son Arthur and have him claim his birthright. Jason O'Mara, Rosario Dawson, and Nathan Fillion lead the cast and are pretty good. However, the animation is rather poor and has an odd look to it; as an anime type style is used. And the storytelling has some trouble incorporating the A, B, and C plots, and feels disjointed at times. Also, the action sequences seem fairly rote and aren't that exciting. Justice League: Throne of Atlantis is a lackluster followup to Justice League: War and doesn't really deliver any thrills.
Dann Michalski
Super Reviewer
½
Another un-enthralling by the books affair from the DC Animated crew. Much closer to Son of Batman or Superman: Doomsday than Under the Red Hood or The Dark Knight Returns. Watchable but of minimal appeal. Though it does feature Aquaman saying "Outrageous!" which tickled me more than a little.
Justice League: Throne Of Atlantis Quotes
There are no approved quotes yet for this movie.