Justine
(1969)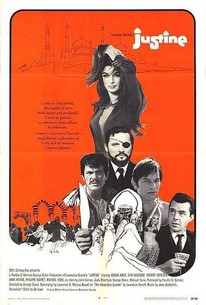 AUDIENCE SCORE
Critic Consensus: No consensus yet.
Movie Info
Justine (Anouk Aimee) is the Jewish prostitute living in Egypt who manages to sleep her way to the top. Marrying a financial minister, Justine works her way up from a 10-year-old child hooker who helps the Jews fight for their own homeland against the British and Arabs. The story is told from the perspective of the English nobleman Darley (Michael York), who first met the temptress in 1938. The Jews are continually pressured by the Moslem majority, who also persecutes Christians. Justine helps both Christians and Jews in Alexandria receive fair treatment in the wake of religious and racial prejudice. Dirk Bogarde and Anna Karina also star in this story tinged with adultery, incest, homosexuality and religious and nationalistic fervor.
Critic Reviews for Justine
All Critics (3) | Top Critics (1) | Fresh (1) | Rotten (2) | DVD (2)
It is a sorry irony that from writings so concerned with actuality should emerge so many lifeless fragments.
It can be the poster child film for how a crass Hollywood has the ability to ruin even the best of novels.
Audience Reviews for Justine
Stop me if you've heard this one before. Michael York plays a naive writer/teacher, living in a debauched society in the 1930's which includes all the usual sexualities along with such perversions as child prostitution and incest. That society is about to head in a completely different direction. All the while, he forms a relationship with a damaged young woman(Anna Karina) who might also be the only female belly dancer for miles around. Except it is not "Cabaret." It is "Justine," made three previously and possibly, sort-of, maybe Michael York's first lead role. The setting is also different enough to be interesting in Alexandria, Egypt on the verge of the British troops pulling out, which will leave the minority Coptic Christians at the mercy of the majority Muslim population. But any kind of cogent story fails to emerge from such a busy milieu.(Just because somebody calls out Justine(Anouk Aimee) for her chronic indecision does not let anybody off the hook here.) The eclectic cast is always fun to watch, even if the casting of the Egyptian characters is problematic to say the least. And Jack Albertson makes a great impression to start while it takes almost the entire movie for Dirk Bogarde to realize that the movie is ripe for the picking. Plus, I finally get to see Philippe Noiret in drag.
Justine Quotes
There are no approved quotes yet for this movie.