K-19: The Widowmaker
(2002)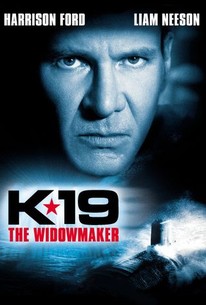 K-19: The Widowmaker Photos
Movie Info
A real-life historical incident becomes the basis for this military thriller from director Kathryn Bigelow that's reminiscent of such submarine dramas as Das Boot (1981), The Hunt for Red October (1990), Crimson Tide (1995), and U-571 (2000). Harrison Ford stars as Captain Alexi Vostrikov, a Russian naval officer who's being given command of the Soviet Union's first nuclear submarine, K-19, at the height of the Cold War in 1961. The vessel's previous commander, Captain Mikhail Polenin (Liam Neeson) has been demoted to executive officer following a botched test and his outspoken assertions that the flagship is not yet ready for deployment, but he curbs his resentment and resolves to serve his new superior well. Polenin's concerns are well founded: parts are not yet installed, equipment is missing, and the ship's doctor is killed in an auto mishap. Political pressure forces Vostrikov to sail his crew into the North Atlantic anyway, for a missile fire test that serves as a warning to the U.S. that its enemy is now its technological equal. The test is a success, but a disastrous leak in the K-19's reactor cooling system soon threatens to create enough heat to detonate the craft's nuclear payload -- which would certainly be mistaken for the first salvo in a worldwide atomic exchange and spark the beginning of World War III. With no other option, Vostrikov orders his men to repair the damage in ten-minute shifts, irradiating them hopelessly. The conflict between the seemingly bureaucratic Communist Vostrikov and the more humane Polenin escalates, until a surprising twist reveals where both officers' loyalties truly lie. ~ Karl Williams, Rovi
News & Interviews for K-19: The Widowmaker
Critic Reviews for K-19: The Widowmaker
Audience Reviews for K-19: The Widowmaker
Captain Alexei Vostrikov: We deliver, or we drown.  "Fate has found its hero." To be honest, I didn't expect a movie half as good as the one I got from K-19: The Widowmaker. This is an extremely underrated film from a great director in Kathryn Bigelow and boasts a variety of good performances. The fact that this movie is so unknown and also unappreciated stuns me to a degree. This film is powerful, suspenseful, entertaining, and well made in every aspect. The movie looks good, it sounds good, it's well acted, well paced. What more could we really ask for from a submarine movie. K-19 is a new Soviet submarine that has new technology on it that the Soviets believe will give them the upper hand in the Cold war. It's a nuclear reactor. The ship isn't ready to go out though, and when the captain of the sub(Liam Neeson) says that, he is relieved of duty by another captain(Harrison Ford). The two knock heads quite a few time on the mission, especially when things begin to go from bad to worse. The movie has an undeniable human element at work that many movies lack or just don't even try to accomplish.  The reviews for this movie are, to put lightly, luke warm. Most of the time, I can see why some wouldn't like a movie that I find impressive, but this is one of those rare occasions where I just can't come to grips with it. Negative reviews speak of the movie putting too much emphasis on the human element of the story. It's too dramatic, and maybe too feel good in the end. Are we so out of touch with humanity that we would criticize a movie like this for including the most important part of any story? None of these critics argue that the movie isn't well made, but they will argue that it becomes too focused on the human element. Yeah, like that wasn't important to the actual people when it was taking place. Okay, I'm done ranting. Despite some negativity in the reviews, I implore you to give this one a shot. It's a movie that will has power, while still informing on a situation in history that few people actually know about. I'm not saying that this is one of the best movies ever made, but it is one that I enjoyed highly and one I think a lot of other people would enjoy, if they give it a chance. 
Melvin White
Super Reviewer
½
What I thought would be a mediocre sub flick, turned out to be so much more. The Academy Award for Best Director that Kathryn Bigelow received last year, is well-deserved in the least. For two out of two war films I've seen by her now, that have been of very high calibre. Much of the credit, however, also goes to to Harrison Ford and Liam Neeson. The dignity and effort that they invest into their roles is highly appraisable, and every second they're on screen is a second of pure awe and joy. It's a little scary also to think how close we really were to World War III, and this film illustrates that perfectly. The only beef I had with it was the horrible russian accents. Too fake-sounding to be bought and believed. Other than that though, it's a splendid piece of cinema. Very suspenseful throughout and with a tight and well-paced script. Certainly not for the claustrophobic, but if you're into the sub-genre (no pun intended), you might wanna give it a go.
K-19 is a masterful submarine film. No such sub film since Das Boot conveys a sense of drama and helplessness like K-19. Kathryn Bigelow has assembled a great cast of actors here, and Harrison Ford delivers one of his greatest performances since the 1980's. Bigelow's directing is flawless, the tension on screen unfolds so well in her hands. K-19 Is a terrific film and the cast make this film soar. A film filled with suspense, tension, thrills and drama, this is one of the best since Wolfgang Peterson's Das Boot. Maybe not as masterful, but this film heads into the right direction. It may be viewed in the years to come as a great submarine film. Because it really is. A film thats seriously underrated, K-19 may find an audience in the future. Bigelow displays great skills in telling a great story, and delivered a monumental film with K-19.
K-19: The Widowmaker Quotes