Kâbê (Kaabee) (Kabei: Our Mother)
(2008)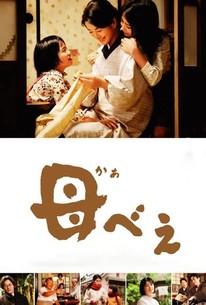 Kâbê (Kaabee) (Kabei: Our Mother) Photos
Movie Info
Veteran Japanese filmmaker Yoji Yamada's 80th feature film concerns a mother living in 1940s-era Tokyo who is forced to care for her two daughters alone after her husband is jailed for expressing reformist views on the Japanese invasion of China. Professor Shigeru Nogami (Mitsugoro Bando) is an outspoken man with some particularly unpopular political views, and for his role in speaking out against the Japanese invasion of China he is promptly jailed. In the wake of his imprisonment, Professor Nogami's devoted wife, Kayo (aka Kabei, played by Sayuri Yoshinaga), is suddenly relegated to the status of single mother. As Kayo does the best to care for the couple's two young daughters, her stern policeman father (Umenosuke Nakamura) proves little help. Thankfully for Kayo and the two children, the people of the neighborhood are more concerned with the well-being of her family than her husband's political views. One of the professor's former students in particular, the clumsy but well-meaning Yamasaki (Tadanobu Asano), does his best to ensure that the Nogami family is properly cared for until the day his mentor can return.
Critic Reviews for Kâbê (Kaabee) (Kabei: Our Mother)
Audience Reviews for Kâbê (Kaabee) (Kabei: Our Mother)
½
Yoji Yamada is one of today's most brilliant directors. I have really enjoyed his period pieces, which have brought back fun memories of classic Samurai movies. Yamada has a subtle and quiet voice which he usually uses well. Kabei: Our Mother seemed like it came from a different director altogether. Set out like a series of memoirs, the film relied heavily on an intrusive narration and episodic structure. I never felt at ease, or intrigued, by the films pace. There were segments I enjoyed, most involving Asano, who kept his emotions in the open without making them obvious. The end was also very melodramatic, with screaming and crying forcing their way in. It was all very 'bitty', but each individual 'bit' had something to enjoy.
Luke Baldock
Super Reviewer
The Japanese classicism of Ozu is alive and well in director Yôji Yamada. Sayuri Yoshinaga's complex performance as the mother in this is simply stunning
Tobias Ximénez
Super Reviewer
Kâbê (Kaabee) (Kabei: Our Mother) Quotes
There are no approved quotes yet for this movie.