Kabluey
(2007)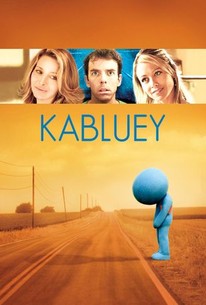 TOMATOMETER
AUDIENCE SCORE
Critic Consensus: An effecting treatise on modern alienation, Scott Prendergast's story of a hapless loser who finds recognition by donning a featureless suit is full of whimsy and sorrow.
Movie Info
The mother of two rambunctious young boys is barely holding things together while her husband's National Guard unit is off fighting in Iraq. Desperate for some help, she lets her husband's brother, Salman move in and act as make-shift nanny. But his parenting skills are lacking and soon all hell breaks loose. In order to keep the family afloat, Salman takes a job as a corporate mascot, spending his days baking in the heat of a ridiculous giant blue costume. However, the suit's anonymity offers him a fresh start and surprising new opportunities to keep the family together.
News & Interviews for Kabluey
Critic Reviews for Kabluey
Audience Reviews for Kabluey
Includes all the ingredients of an indie movie: an aimless nogoodnik, an estranged family who tests his adult responsibilities, a strange part-time job that requires a quirky/cute costume, a redemption moment that establishes his self-worth and strengthens his bond with aforemetioned estranged family. It's all very nice, and I like the quirky filmmaking aspects as well, like zooming in on weird physical phenomena, like the ghosty rotations a plastic spoon makes after you let go from stirring it. I would have liked a bit more life or explanation in Lisa Kudrow's character. Yes, she's a depressive, but there isn't much for the character or actor to do, and the reasons for her affair are just a bit too indie-understated...indiestated? I also wonder why Salman leaves before reconciling with his brother, which seems to have been a source of tension throughout the whole movie.
Alice Shen
Super Reviewer
Strange little movie that really made me laugh. Dealing with murderous kids (literally), the world's shittiest job (bar none), a sweet, kind lady who wants to run him down with her car every time she spots him... oh yeah, and an old man who has a deep and loving relationship with his soup thermos. What's not to love? :D
Cynthia S.
Super Reviewer
½
I can't believe Lisa Kudrow is so hilarious even when she's not loud and noisy like Phoebe. This is definitely an indie film, but it's not the sugary, embrace life kind of indie and that is refreshing. Scott Prendergast manages to make the most inane things hilarious, and as a result puts an interesting spin on the tried-and-true subject of dysfunctional family. I wish this movie had been put on wider release because I think it could have done well given the right distribution. Oh well, at least I got to see it...
Jennifer Xu
Super Reviewer
Kabluey Quotes
There are no approved quotes yet for this movie.