Kalifornia
(1993)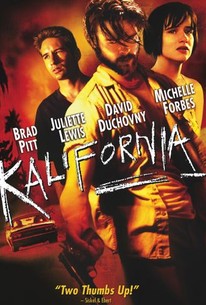 TOMATOMETER
AUDIENCE SCORE
Critic Consensus: Visually strong and featuring a potently feral performance from Brad Pitt, Kalifornia is a tonally uneven thriller marked by all-too-obvious themes.
Movie Info
With writer Brian Kessler's (David Duchovny) contractual deadline for a book on serial killing fast approaching, he and girlfriend Carrie Laughlin (Michelle Forbes) decide to embark on a cross-country tour of famous murder sites for inspiration. When the couple advertises for fellow travelers to help absorb expenses, the only response comes from greasy trailer park denizen Early Grayce (Brad Pitt) and his girlfriend Adele Corners (Juliette Lewis). Only too late do Brian and Carrie realize just how close to serial murderers they're about to get.
Critic Reviews for Kalifornia
Audience Reviews for Kalifornia
Daniel J DeMersseman
Super Reviewer
½
Starting like a soft-core Red Shoe Diaries episode, the guitar score is less heart-throbbing and more chintzy. In a sociological study on murderous psychology, 'Kalifornia' delves headlong into sociopathic analysis (Duchovny asserts that serial killers can distinguish between right and wrong and they should receive the death penalty). These aspects of the film are intrinsically provocative. However, Duchovny's voiceover is a sleep tranquilizer like Harrison Ford's lukewarm narration in 'Blade Runner'. He waxes poetic about how serial killers "dream they can fly" and it sounds irredeemably pretentious. Pitt is superficial unkemptness as the hayseed Early and he is such a dimwit that he can hardly be classified as a threat (Early romanticizes California with claims that there "ain't no speed limits and the first month is rent free."). Anything spouted by Juliette Lewis is a juvenile stereotype of Southern yokels (she doesn't fathom the definition of the word "karma") and she is intolerable in the role. Early's parole officer with the hook appendage is extremely cartoonish. The cross-cutting of the two stories is awfully uneven since we are more enthralled with Early's impecunious trailer lifestyle than Brian's naïve obsessions. Truthfully, 'Kalifornia' is a vapid exercise in David Fincher style, but its declarations about the ill-bred origins of serial killers are shallow.
Cory Taylor
Super Reviewer
½
Very few people would dare to question Brad Pitt's versatility today. That was different in the early 90s, when he was still underestimated as just another pretty face. Undeservedly so, as this early work in his oeuvre shows. He has hardly ever been as menacing, unpredictable and merciless as in this thriller about an author taking a road trip to famous murder sites and sharing gas costs with a white trash couple. As brilliant as Pitt is, he is even outshined by Juliette Lewis as dumb but sweet bimbo. As the trip turns more and more into a nightmare for the yuppie couple, the violence is ruthless, realistic and ugly, as in real life. While our protagonist ("Mulder" David Duchovny) is looking for an explanation for the mindset of serial killers, the film has no answers to the questions of the their motifs. Which just makes it even more unpleasant and important. Well done.