Kama Sutra: A Tale of Love
(1996)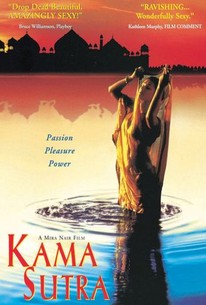 TOMATOMETER
AUDIENCE SCORE
Critic Consensus: Kama Sutra refreshingly approaches sensuality from a female perspective, but audiences will be turned off by this romance's silly plotting.
Kama Sutra: A Tale of Love Photos
Movie Info
Melodramatic and steamy as an East Indian jungle, this erotic historical drama tells the lurid tale of betrayal and sexual intrigue to be found within the confines of a great Indian palace during the 16th century. The story centers upon the broken trust between a pair of lifelong friends, a princess and her servant girl. As they grew, Maya the servant became an extraordinary beauty and this roused the jealousy of Princess Tara. On the eve of Tara's marriage to King Raj Singh, Maya unwittingly bewitches the king with her feminine wiles and she ends up in his bedroom chamber, thereby ruining Tara's wedding night. Enraged, Tara calls Maya a whore and banishes her. While on the road, she encounters Jai, a royal sculptor who sees in her magnificent body, his magnum opus. She falls for him, and though he loves her, he turns away, fearful of the intensity of their bond. Thus spurned, Maya becomes a student of the Kama Sutra (the ancient manual of sexual practices) under the experienced hand of a prominent courtesan. This leads her back to the court of the king -- who remains intent on having Maya as one of his own possessions -- and right into the bosom of tragedy.
Critic Reviews for Kama Sutra: A Tale of Love
Audience Reviews for Kama Sutra: A Tale of Love
The name's deceiving. It has nothing to do with the movie. It's just a love story set during somewhere in the 15th or 16th century India.
Mohet Naidu
Super Reviewer
½
Its probably hard to take a subject like the Kama Sutra and distill it into a good movie that's not rated X. That being said, this movie does a good job at creating a plot around a tale of forbidden love that is set in an India of ages past. The staging and art direction are all well done-- and one certainly gets a sense of the opulence of India, simply through the luxuriant costume design that pops up in every scene. Where the movie has problems is that the protagonists are attractive, but not compelling as actors. We feel pity for their plight as part of a caste, but the villains are so equally cardboard that its hard to feel much empathy for anyone in this movie. The other curious aspect of this movie is the ending-- which isn't happy... and seems more a statement on the caste system itself. The feminism of the main character in the final scenes seems quite absurd, but perhaps that is just the nature of this difficult to adapt material.
Cassandra Maples
Super Reviewer
½
I just couldn't care less about these characters
Kama Sutra: A Tale of Love Quotes
| | |
| --- | --- |
| Tara: | Maya: Knowing love, I will allow all things to come and go, to be as supple as the wind, and take everything that comes with great courage. As Rasa would say to me, life is right in any case. My heart is as open as the sky. |