Kamui (Kamui gaiden)
(2009)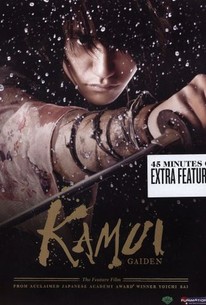 AUDIENCE SCORE
Critic Consensus: No consensus yet.
Movie Info
A ninja walks away from his life as a warrior only to find he must embrace it again late in life in this action drama based on a popular manga by Sampei Shirato. As a young man, Kamui (Kenichi Matsuyama) was strong, agile and had the talent to become a great ninja fighter. However, as he learned the way of the warrior, he encountered too many ninjas who used their abilities for vicious or self-serving reasons, and in disgust he walked away from his training, spending fourteen years as a recluse wandering in the mountains. When Kamui makes his way to the seashore, he meets Hanbei (Kaoru Kobayashi), a fisherman who shares the former ninja's sense of honor and propriety. Though Hanbei's wife Oshika (Koyuki) is wary of the stranger, the fisherman and Kamui become fast friends, but Kamui doesn't enjoy the peace of the seaside for very long. A band of ninjas turned pirates invade Hanbei's village, and Kamui must reacquaint himself with his warrior training to defend his friend and new neighbors from the violent horde; Kamui also must protect Hanbei's daughter (Suzuka Ohgo), with whom he's fallen in love. Directed by Yoichi Sai, Kamui Gaiden (aka Kamui) received its North American premiere at the 2009 Toronto International Film Festival.
Critic Reviews for Kamui (Kamui gaiden)
All Critics (1) | Fresh (1) | Rotten (0)
Here, Kamui's endless struggle and suffering are all - but if that, and the film's immense visual beauty, do not sound enough to keep the viewer entertained and enthralled, then there are always the CG megasharks...
Audience Reviews for Kamui (Kamui gaiden)
An ex-ninja on the run from his clan befriends a fisherman hoping to leave his former life behind him and enjoy a simple life, but his past inevitably catches up with him with violent consequences. Kamui is an amusingly oddball chop-socky martial arts film based on a popular Japanese manga. It captures the spirit of the comic strip with plenty of high kicking, wire flying violence as people bounce all over the screen dispatching pointy death on nearly everyone they meet. It is rather episodic and the story takes some bemusing turns (particularly when it turns into a Kung Fu version of Jaws!) but its sheer bizarreness acts to keep the audience interested as you never quite know what's going to happen next. Some of the visual effects are a little ropey and subtlety is most definitely left at the door, but it's an entertainingly strange addition to the genre that's not as good as Azumi, but better than Azumi 2.
"No matter how much we fight it, we can't never be human." Two things hurt Kamui Gaiden pretty badly, in my eyes. A wretchedly bad subtitle job that makes the story practically incomprehensible at times, and some very poorly done special effects and CGI that make every action sequence look fake. Even these flaws could be somewhat ignored if Kamui shined in other areas, and thankfully, it does manage a glimmer or two. After the poorly told back-story is out of the way, the plot settles down into a more straightforward tale. The fights still aren't all that amazing and the special effects are still just as conspicuous, but the story of Kamui does strike a few chords as he tries to escape from his past and meets people who he starts to care for, and who are put in danger by the runaway ninja's very presence. Check this out if you're starved for some ninja action, but Kamui Gaiden is not a masterpiece by any definition.
What an amazing story based on the original manga about the adventures of a fugitive ninja. This Japanese epic action film is very ambitious, it's often CGI - wire work can only take you so far in the arena of awesome stunts. The fighters here have really pretty much supernatural skills that make Crouching Tiger look positively undercooked. There's some fun stuff that Kamui fights with, including a knuckleduster with triangular ridges, that can be used for parrying sword blows. As Kamui (Ken'ichi Matsuyama) is a really rather sullen character, who has appeal more as a heartthrob to potential androphile members of the audience, much of the ready humour in the film is delegated to supporting actors including Kaoru Kobayashi (as Hanbei the fisherman), and Hideaki Ito (as Lord Fudoh, the incredibly appealing and roguish pirate captain).
Dean McKenna
Super Reviewer
Kamui (Kamui gaiden) Quotes
There are no approved quotes yet for this movie.