Kapo
(1959)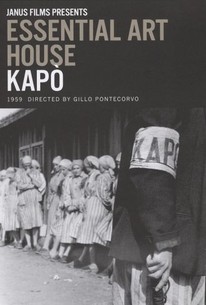 Movie Info
The French/Italian/Yugoslav concentration camp drama Kapo stars Susan Strasberg, who several years earlier had originated the title role in the Broadway production The Diary of Anne Frank. Here, Ms. Strasberg is once again a European Jewish teenager victimized by the Nazis. Interred in a concentration camp, Strasberg is befriended by the camp's kindly doctor, who helps her hide her true identity and work as a camp guard, or "kapo." Unfortunately, Strasberg's new found power goes to her head, and her abuse of that power is very nearly on the same level as the Nazis. Brought down to earth by the death of a close friend, Strasberg spearheads an escape attempt, sacrificing her own life in the process. Nominated for a best foreign picture Oscar in 1960, Kapo nonetheless did not find an American distributor until 1964.
Audience Reviews for Kapo
½
"Kapo" starts with 14-year old Edith(Susan Strasberg) finishing her piano lesson and walking home in Paris where she is caught up in the Nazi dragnet that also claims her parents. Separated at a concentration camp, she is told by another child that they will all be killed in the morning. She runs away in an attempt to be with her parents one last time. Getting lost and afraid, she runs into Sofia(Didi Perego) who takes the girl under her wing to a kindly doctor who forges a new identity for her, exchanging her yellow Star of David for a black triangle, signifying a criminal. This will get her transferred to a work camp with a better chance of survival, even as she witnesses her parents being led into the gas chamber. Made over 30 years before "Schindler's List," "Kapo," directed by Gillo Pontecorvo(who will go on to make "The Battle of Algiers"), is a stunning, masterly and unflinching depiction of the Holocaust that has quite a lot to say on the nature of identity. The high level of filmmaking is already apparent in the pre-titles sequence(I didn't notice the Star of David at first on Edith's coat until I took a second look). The hierarchy in the camps is well-detailed where survival depends often on the kindest gesture while the Kapos have the power and life and death which they use indiscriminately. Due to the dehumanizing nature of the Nazis' program of extermination, anybody lucky enough to survive would never be the same again. Just don't make a deal with the devil.
One of the first films to depict the horrors of the holocaust. Gillo Pontecorvo's blunt, realistic style is perfectly suited for such grim subject matter. Not nearly as well known as his other films, Kapò is a fantastic little hidden gem that's anything but uplifting.
Randy Tippy
Super Reviewer
Kapo Quotes
There are no approved quotes yet for this movie.