Kate & Leopold
(2001)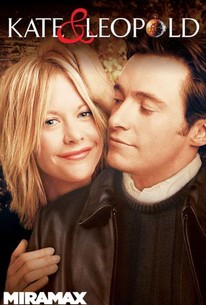 Movie Info
Filmmaker James Mangold follows his Oscar-winning drama Girl, Interrupted (1999) with this whimsical fantasy. Meg Ryan stars as Kate McKay, a modern female executive in New York City whose drive to succeed in the cutthroat corporate world has left little time for romance. When her genius ex-boyfriend Stuart (Liev Schreiber) opens a portal in time, the experiment transports Leopold (Hugh Jackman) from 1867 to the present day. A charming bachelor and the royal "Third Duke of Albany" in his own time, Leopold is fascinated by the 21st century. As the courtly Leopold and the decidedly liberated Kate tour the town, a mutual attraction develops into something deeper, a relationship that's threatened by Leopold's temporary chronological status. Kate & Leopold (2001) was originally developed by co-screenwriter Steve Rogers as a project for star/producer Sandra Bullock, who had a hit with his film Hope Floats (1998). ~ Karl Williams, Rovi
Critic Reviews for Kate & Leopold
Audience Reviews for Kate & Leopold
½
Complete and utter crap honestly.
Nicki Marie
Super Reviewer
This movie is all kinds of weird, but I love it for that reason. Time travel and love stories have never been so eloquently put together like this. Hugh Jackman dominates the screen as Leopold, becoming the epitome of an English Gentleman who loves his good butter and tea. Meg Ryan also does a great job at making the humor work so well. It's almost like a British interpretation of Back To the Future, only with a lot of Margarine bashing.
Conner Rainwater
Super Reviewer
Kate and Leopold made me think what would it be like, when something similar would happen to me. lol. A fun Movie.
Kate & Leopold Quotes
| | |
| --- | --- |
| Leopold: | Where I come from, the meal is the result of reflection and study, menus are prepared in advance, timed to perfection. It is said, without the culinary arts the crudeness of reality would be unbearable. |
| | |
| --- | --- |
| Leopold: | Otis always told me love is a leap. Lamentably, I was never inspired to jump. |
| | |
| --- | --- |
| Leopold: | Marriage is the promise of eternal love. As a man of honor I cannot promise eternally what I've never felt momentarily. |
| | |
| --- | --- |
| Roebling: | Time. Time, it has been proposed, is the fourth dimension. And yet, for mortal man, time has no dimension at all. We are like horses with blinders, seeing only what lies before us. Forever guessing the future and fabricating the past. |