Kaw
(2007)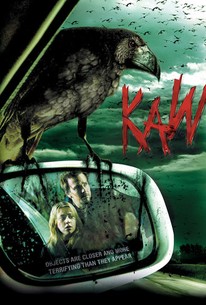 AUDIENCE SCORE
Critic Consensus: No consensus yet.
Movie Info
Sean Patrick Flannery and Rod Taylor star in this horrific tale of a small town overrun by a conspiracy of flesh eating ravens. Middletown sheriff Wayne Merkle (Flannery) has grown used to the quiet life over the years, and like the other citizens of his bustling community he could have never suspected what horrors were about to unfold during his last day before moving to the city with his pretty new bride Cynthia (Kristin Booth). The first sign that something was amiss in the skies over Middletown occurred when outcast farmer Clyde (Stephen McHattie) was attacked. But the locals have all grown tired of Clyde's bizarre exploits over the years, so when he comes into town claiming that he was attacked by ravens most folks simply laugh him off. Their guffaws soon turn to blood-curdling screams, however, when the local girl's soccer team comes under attack and the citizens are forced to barricade themselves in the town diner. While Sheriff Merkle and his good friend Doc (Taylor) do their best to board up the diner and ensure the safety of the citizens, they quickly discover how futile their efforts were when the flesh-eating fowls make quick work of the flimsy shelter. It seems that local farmer Oskar (John Ralston) has been hiding some particularly unsettling developments from his fellow townspeople as of late, leaving the average citizens easy pickings for the razor-talon terror that circles above. As the day turns to night and the jet-black feathers of death become indistinguishable from the darkened sky, the few remaining survivors will wage one last, desperate stand against the army of merciless killers that circle overhead.
Audience Reviews for Kaw
The film is relatively well made. I never doubted the existence of these ravens, nor their animosity towards humans. It was well shot and had some decent actors too. The problem is that it played it too straight. It never really found the humour. This would be OK if it managed to get the tension or scares right, but it just fizzles flat. This is a real pity, as you may as well watch The Birds, a truly terrifying film that also shows why you shouldn't explain everything. Kaw even takes one of the actors from that film, when it should have just had more fun. Not embarrassing, but not incredibly entertaining either. The best thing about it is the title, which I can't help but say in an annoying bird sound kind of way.
Luke Baldock
Super Reviewer
½
More or Less a Modern remake of the Birds by Alfred Hitchcock. Enjoyed the Rental, but will not own this one.,
Bruce Bruce
Super Reviewer
Well first of all, all that screaming and no point in the plot. I mean suddenly the revealing BSE? And suddenly I felt like I watched the 2 hours a spoof of Birds by Alfred Hitchcock.