Keeping Up With The Joneses
(2016)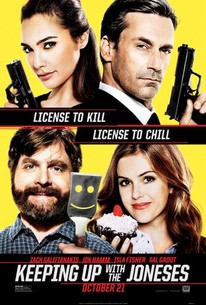 TOMATOMETER
AUDIENCE SCORE
Critic Consensus: Keeping Up with the Joneses squanders a decent premise -- and a talented cast full of funny people -- on a witless and largely laugh-free suburban spy adventure.
Keeping Up With The Joneses Videos
Keeping Up With The Joneses Photos
Movie Info
A suburban couple becomes embroiled in an international espionage plot when they discover that their seemingly perfect new neighbors are government spies.
News & Interviews for Keeping Up With The Joneses
Critic Reviews for Keeping Up With The Joneses
Audience Reviews for Keeping Up With The Joneses
½
I think I need to start with this before we get on with the actual review, but Zach Galifianakis looks really weird with a goatee on. It sort of looks like he's incomplete. Like a create-a-player in a video game and they're missing like, say, a cheek. There's just something off about that, same as with Zach's goatee. And, it's weird, because I've seen the guy with just a mustache and I have no problem with it, but the goatee sort of throws me off. I guess it's the fact that the goatee is, technically, still a beard. But it's a beard that's missing most of its, well, beard. I can't be the only one who thought that, right? Anyway, I suppose we should move on to this movie. I mean, really, do we have to? Can't we just talk about Zach's beard some more? The RottenTomatoes consensus says that this movie squanders a decent concept. Is it really a decent concept? I suppose decent isn't, technically, good. But I think decent is giving this concept too much credit. I suppose the idea that a boring, old married couple being thrust into a the world of espionage by their new neighbors is one that you could, theoretically, mine some laughs from. And when you have people like Isla Fisher, Jon Hamm, Gal Gadot and Zach Galifianakis, your work is, really, almost done for you. You have these talented and funny actors at your disposal. All you need to do is provide them with a strong enough script and, really, the pieces will fall neatly into place. Well, I guess I'm here to deliver some good news and some bad news. I don't know if I should start with the bad news, because, in reality, the good news aren't really much consolation. Fuck it, I'll start with the good news. The good news is that the lead cast are perfectly likable in their roles. The bad news is that that likability isn't worth shit when your script lacks any real attempt at actual comedy. I'm certain that Zach Galifianakis and Isla Fisher can improv their way out of a paper bag so, no matter what you throw at them, they'll be able to react to it almost instantly. I'm certain Jon Hamm and Gal Gadot could do the same, but, really, the movie doesn't really put them in those situations. But, at the same time, you can't rely solely on the skill of your lead actors (this meaning Isla and Zach) without some sort of narrative focus to hold this all together. Essentially, what you're left with is an unfocused mess of a movie that isn't funny and, really, has no real way to justify its own existence. What's the narrative here? Some guy that works at a defense contractor company (same as Jeff, Zach's character, who works at the HR department) selling microchips to this arms dealer that wants to use those chips to undermine the U.S's missile defense system...or something. This is all very boring and dull. The story doesn't really focus on that, it focuses more on how Jeff and Karen (the name of my first crush, in a pointless little tidbit about myself) come out of their very timid shells as a result of these new, attractive and exciting couple that moved in next door. It's all about Jeff/Karen's relationship with Natalie and Tim. And even that is, really, kind of boring. Tim and Jeff go indoor skydiving and Jeff's behest. Natalie and Karen go buy sexy lingerie so Karen can spice up her, honestly, boring marriage. Natalie and Tim learn to work on their marriage as a result of how strong their neighbors' marriage is. It's all so unfunny and generic. Very little effort was put into the script. Perhaps that's not fair to say, because who knows what this script was like when it was originally written. Who knows how it was altered, revised and modified? It may have been a super clever, subversive comedy. But other people get their hands on it, they water it down and it becomes something else entirely. Not saying that was the case here, but it COULD have been the case. There's just no reason that you just lay to waste so many talented actors in one go. Sometimes you misuse one actor, maybe two, but this is four really talented people in a completely unfunny and not particularly entertaining movie. And I wish I could say that it was watchable, but I can't. If this was watchable, I feel like I would have had more than a few uninspired chuckles. You definitely could have mined this movie for a few more laughs than they did and that's what annoys me about this. Because, essentially, this is Central Intelligence for couples. Central Intelligence came out the same year as this one, within four months of each other actually, and the difference in quality is like night and day. And this is as someone who thought that Central Intelligence was just a fun movie, I didn't think it was great or anything. So why would audiences want to invest in a movie (this one) that they already saw four months earlier...oh, and it was also better (Central Intelligence). They wouldn't and they didn't, for good reason. Not that I'm glad that this movie was a failure, because that's not what I want, but it just shows you that people do, at times, respond and gravitate to quality flicks. And, in spite of the talented cast, I wouldn't say that this set the world on fire. Would I say that this is bad? I don't know. I guess, in the long run, yes, I'd say this was bad. But not bad in the way that you hate life and want to just retreat within yourself and never let anyone love you again (Bye Bye Man), this is more just disappointingly bad. Like this could have been a fun, if disposable, little movie. But it just wasn't, it really wasn't. It is what it is, not everything can be a home run. Sometimes you just strike out. I can't say that I'd recommend this, but at least it's no Bye Bye Man. No losing sleep over this one, just a lot of alcohol to erase this from my memory.
Jesse Ortega
Super Reviewer
½
Cliché and formulaic, Keeping Up With the Joneses is a fairly generic action-comedy. The story follows a suburban couple that grows suspicious of their new neighbors and discover that they're CIA spies on a cover mission. Starring Zach Galifianakis, Isla Fisher, Jon Hamm, and Gal Gadot, the film has a pretty solid cast. But the comedy is bland and stereotypical. And the action scenes aren't very exciting, and feel rote. It isn't that Keeping Up With the Jones is a bad film, it's just so by-the-numbers that it has no flavor to it.
Dann Michalski
Super Reviewer
Amusing enough way to kill an hour and a half. Extremely predictable, though. Isla is always funny in this type of thing.
Nicki Marie
Super Reviewer
Keeping Up With The Joneses Quotes
There are no approved quotes yet for this movie.