Keeping Up With The Steins
(2006)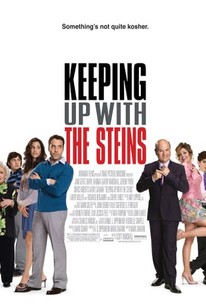 Keeping Up With The Steins Photos
Movie Info
The competition heats up as a young man on the cusp of adulthood in Brentwood, CA, prepares for his upcoming bar mitzvah, and his father strives to outdo the gargantuan coming-of-age bash recently thrown by his number-one nemesis, in a madcap tale of Hebrew rivalry from actor-turned-director Scott Marshall. Benjamin Fiedler (Daryl Sabara) is about to become a man, though the prospect of reciting a language he doesn't even really know in front of a temple full of strangers is so daunting that it makes him wish he could just stay a boy and write the whole thing off. As if his personal peccadilloes weren't enough to rack Benjamin's nerves, his father, Adam (Jeremy Piven), and mother, Joanne (Jami Gertz), are determined to send Benjamin into the adult world in true style. Recently, Adam's rival agent, Arnie Stein (Larry Miller), threw down the gauntlet for his own son's bar mitzvah by hosting a no-holds-barred bash that made New Year's Eve in Times Square look like cake-and-coffee day at the retirement community, and ultra-competitive Adam is determined to prove that he can top that now-legendary party. When Adam's aging, hippy-dippy father, Irwin (Garry Marshall), rolls into town in a broken-down RV with his dizzy young girlfriend, Sandy (Daryl Hannah), however, it appears as if all of his plans to out-class Arnie Stein may have been for naught. ~ Jason Buchanan, Rovi
News & Interviews for Keeping Up With The Steins
Critic Reviews for Keeping Up With The Steins
Audience Reviews for Keeping Up With The Steins
Being Jewish, I have a bias towards liking a film like this. The usage of Yiddish, along with the many exaggerations of the Jewish family are something most people won't understand, unless they grew up around it. Parts of this film I found to be hysterical, while my non-Jewish friend, sitting next to me, didn't get it at all. As for the film, it's a lie before the credits even stop rolling. Keeping Up With The Steins, really has very little to due with the Stein family, as they are part of the background story at best. The film is actually about a broken family, forced together on the eve of a child's Bar Mitzvah. Benjamin Fiedler (Daryl Sabara) is turning 13, which in the Jewish religion means that he is about to become a man. His parents are well off and are making huge plans for the event, but Ben wants no part of it. In an attempt to take the attention off himself, he sends an invitation to his estranged Grandfather that he's never met, a Grandfather, who shows up to the families wealthy neighborhood in an old RV, with a woman half his age. This is where the heart of the story comes from, as father and son are forced together after fifteen years. Jeremy Piven stars as the son and believe it or not he's a big time Hollywood agent, living in a life of luxury. This toned down version of Ari is forced to see his father, played by the legendary Garry Marshall. For the past 15 years, he's been living as a hippie, teaching on an Indian reservation. As soon as they see each other the two are at odds and it really is very funny. The star of the film is Spy Kids, Daryl Sabara, who I have never liked. He's just always so shy and painfully awkward, I really just don't understand his appeal. While he is a major part of the story, the parts of the film that feature him without Marshall or Piven are just painful. Keeping Up With The Steins isn't raunchy and much of the humor is intertwined in the Jewish religion. If you're not Jewish, you'll probably have the same reaction my friend did. Personally I loved it, but I can understand how this film won't appeal to everybody.
Todd Smith
Super Reviewer
Keeping Up with the Steins is about trip to his bar mitzvah party with his dysfunctional family in one house. Good plot and good acting most of the time Its kind of a cult, spoof and comedy mix into to one. This film is making fun of how too many Jewish families see a bar mitzvah or bat mitzvah not as a coming of age for their son or daughter, but rather as an excuse to throw outrageously lavish parties. It had one good song at the very end. Cons Lacking acting sometimes Lacking good music some times. Weird
erika bruhns
Super Reviewer
½
much better then expected
Keeping Up With The Steins Quotes
There are no approved quotes yet for this movie.