Kelly's Heroes
(1970)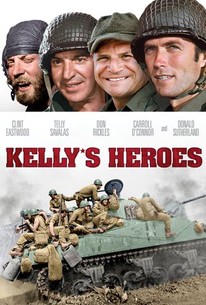 AUDIENCE SCORE
Critic Consensus: Kelly's Heroes subverts its World War II setting with pointed satirical commentary on modern military efforts, offering an entertaining hybrid of heist caper and battlefield action.
Movie Info
Like M*A*S*H and Catch-22, both released the same year, this military comedy takes place in an earlier war but is really a thinly disguised treatise on the modern-day insanity and avariciousness then unfolding in Vietnam. Clint Eastwood stars as Kelly, a former lieutenant whose illusions about the glory of war, if he has any, are lost when he is busted in rank for following some poorly considered orders in World War II France. After capturing a friendly German officer, Kelly learns the whereabouts of millions of dollars in gold bars, earmarked to finance a military payroll. Taking advantage of a three-day liberty, Kelly assembles a motley trio of fellow soldiers to help him sneak behind enemy lines and retrieve the booty. They include Big Joe (Telly Savalas), a gruff sergeant; Crapgame (Don Rickles), a supply sergeant already enriching himself as a black marketer and con man; and the hippie-like tank commander Oddball (Donald Sutherland). Since crossing into enemy-held territory means heading in the opposite direction of the retreating Allies, Kelly and his men encounter armed resistance. Receiving word of their campaign, the vain General Colt (Carroll O'Connor) mistakes the quartet of freelancing scam artists for all-American heroes. ~ Karl Williams, Rovi
Critic Reviews for Kelly's Heroes
Audience Reviews for Kelly's Heroes
A motley collection of American GIs hatch a scheme to steal $16 million in gold bullion from a bank behind the German lines. Very much a product of the wave of anti-Vietnam films of the time, Kelly's Heroes has more in common with the likes of Catch 22 and MASH (both released the same year) than your average gung ho WWII movie. Clint Eastwood at his prime heads up a brilliant cast of offbeat hustlers and crackpots including Telly Savalas as a hard nosed sergeant and the pick of them all, Donald Sutherland, as a hilariously anachronistic hippy tank commander who goes into battle bearing country & western and paint balls. The plot is a marriage of The Dirty Dozen and The Italian Job and is never afraid to chop and change genres; the war elements providing the action and pyrotechnics and the heist the quirky characters and comedy, all ending up in an amusing homage to Sergio Leone as Clint enters into a western showdown with a Tiger tank. It's a massive XY pleaser and as such its appeal may be lost on the female population but it was one of my favourites as a boy and has lost none of its appeal after all these years. Groovy, baby.
½
This military comedy about the hunt for millions of dollars in gold bars makes war look more like an adventure than an actual threat. Sure, people die and there is plenty of suspense, but the overall mood of the film is rather cheerful. That's mostly thanks to a motley cast, including tongue-tied Eastwood, grumpy Savalas and crazy Sutherland. Especially the final taking of the little town's bank is excellently filmed and pretty enthralling. A few stabs at the silliness of military ranks and command chains are also thrown into the mix. A very entertaining caper adventure with pretty impressive action scenes and a very lovable solution. It's particularly refreshing and are in WW2 films that a German opponent would listen to reason.
½
Kelly's Heroes is an overrated movie in my opinion. I like Donald Sutherland a lot and I hadn't seen a movie in which I didn't like him until now. His character is annoying and really ruined the movie for me. It wasn't just him though. I hated Don Rickles and Carroll O'Connor too. I didn't find this movie funny at all and it ran on way too long for what it was. I did really like the minefield scene though. It was the one part of the movie that was actually entertaining and gave me hope for the rest of the movie. One of the few Eastwood movies I didn't care for.
Melvin White
Super Reviewer
Kelly's Heroes Quotes
| | |
| --- | --- |
| Crap Game: | "Ya make a DEALLLL......." |
| Crap Game: | Ya make a DEAL! |
| Big Joe: | "What kind of a deal??"... |
| Big Joe: | What kind of a deal? |
| Crap Game: | "A DEAL DEAL....." |
| Crap Game: | A DEAL DEAL. |
| | |
| --- | --- |
| Oddball: | But for 1.6 million dollars, we could become heroes for three days. |
| Oddball: | Why don't you say something rightous or hopeful for a change? [to Moriarity] |