The Kentucky Fried Movie
(1977)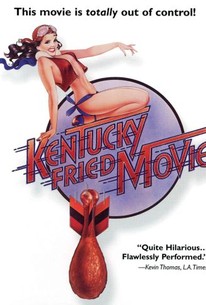 TOMATOMETER
AUDIENCE SCORE
Critic Consensus: The now obscure pop culture references and spoofed commercials add to Kentucky Fried Movies anarchic, anything-goes spirit and wit.
The Kentucky Fried Movie Photos
Movie Info
The Kentucky Fried Movie is a collection of skits and satiric vignettes from director John Landis and the Zucker/Abrahams/Zucker writing team.
Critic Reviews for The Kentucky Fried Movie
Audience Reviews for The Kentucky Fried Movie
½
Written by the ZAZ Team (Airplane! The Naked Gun, etc) and directed by John Landis (National Lampoon's Animal House, The Blues Brothers, etc), this is one of, if not the earliest spoof film. There's not really much of a plot, as this is more of an anthology of mostly unconnected sketches that parody various television programs, commercials, and different films, namely of the exploitation and educational varieties. There's also a hilarious jab at cinematic gimmicks, where a man goes to a movie being shown in "feel around"...which results in him being physically accosted by an usher. The film is very politically incorrect, rude, stupid, silly, and goofy, but I mostly had a good time with it. A lot of it is pretty smart with the satire, and really dead on, but then there's a fair amount that just left me feeling kinda "meh", despite a sly grin on my face. I think the biggest issue here is that the film, though clever and well done, is quite dated, and some of the jokes are no longer as effective thanks to the passage of time, with audiences growing more accustomed to raunch. All in all though, it is enjoyable, but not nearly as groundbreaking as later stuff like Airplane! That being said, I must give special praise to the level of detail and care that went into the Kung fu parody, as well as the fact that the film features a midget dressed in a clown suit whipping half naked Catholic schoolgirls chained up in a dungeon. If this sounds like your thing, then give it a shot.
Chris Weber
Super Reviewer
InTheBasket
Just when I thought it safe to go on watching, there I go again laughing Hysterically.
SHAMLESS FUNNY. zuckNuckLe My MAN! One the Number 1 on my ZuckNuckle Top Ten Movies. I dont really care what people say but this Movie is just too friggin too funny to miss. For a low Budget and for a Seventy Spoof it was Hilarious.
warning not for kids!
½
Crude, nude and not for the prude! As one of the first satire films ever to have been made, this marks the historic birth of a subgenre, that with time has come to generate a whole ocean's worth of offsprings. Very raunchy and experimental by form, yet for the better part quite funny. Some of the jokes are really top-of-the-line, even if the editing and visuals look awfully dated and low-budget. For when they do hit their target, they do so to side-splitting results. One thing that entertained me in particular was the spoof on Bruce Lee's Enter the Dragon. Having recently seen said martial arts flick, just made it all the more hilarious. So if you're into this special flair of comedy, I can definitely recommend you to give it a go. That is, if you're not too easily offended by its raw and unapologetic humor. Because if there's one thing this movie doesn't do, it's holding back its punches.
The Kentucky Fried Movie Quotes
There are no approved quotes yet for this movie.