Now You Know
(2002)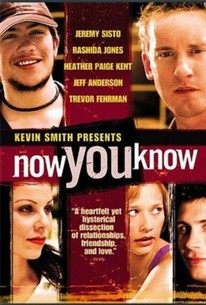 AUDIENCE SCORE
Critic Consensus: No consensus yet.
Movie Info
A pair of former high school sweethearts whose love has never faltered looks forward to a life of marital bliss until, on the eve of the groom's Las Vegas bachelor party, the bride suddenly calls off the wedding with no explanation. Their once promising future together instantly destroyed for reasons unknown to the would-be groom, the pair soon boards an airplane bound for home to pick up the pieces of their fractured lives and attempt to surmise just where it was that everything began to fall apart. Jeremy Sisto and Rashida Jones star in an incisive romantic comedy that proves once and for all that you can never tell where love will lead you.
Critic Reviews for Now You Know
There are no critic reviews yet for Now You Know. Keep checking Rotten Tomatoes for updates!
Audience Reviews for Now You Know
In the wake of his wedding's cancellation a man tries to figure out what went wrong. Writer, director, and co-star Jeff Anderson is known for his work in Kevin Smith's films as Randall, and Anderson's friend, Smith, makes a cameo appearance in Now You Know. Their work is remarkably similar, focusing on aimless Jersey men and their woman troubles. But whereas Smith's dialogue is smart, sharp, witty, and rolls off the tongue with an ease that few writers can master, Anderson's dialogue seems more forced, and the jokes seem deliberately set up, as though the characters know the punchline and are working to get there. Where Anderson succeeds Smith is his direction. Anderson's shots are well-framed, and he even moves the camera, something Smith rarely resorts to. Now You Know is incredibly predictable. We know the resolution of the film's conflict early in the second act, and the reveal of the father of Marty's child is telegraphed almost from the beginning of the film. There are a few clever reveals, like why Gil and Biscuit break into houses and re-arrange the furniture, but mostly, one knows what's going to happen long before the characters do. That said, there are moments that resonated with me, including the feeling of a relationship ending for no good reason and Gil's theory that married men aren't missing out on anything because the only reason to go out is to find the one they're going to marry. Overall, Now You Know is similar to Smith's oeuvre, which is fine company to be in.
Jim Hunter
Super Reviewer
I really wanted to like this Jeff Anderson movie but instead I just ended up bored.
James Alvarez
Super Reviewer
This wasn't bad, but I would only watch it the once. I think this might have been better if Jeff Anderson had gone for the straight buddy-comedy laughs instead of the bent romantic comedy that he was going for. The lead actors were great though, as was the dialogue for the most part. I found the dwelling on the recently past relationship a little tedious, and it really weighed down the whole movie. Not too bad, but lacking energy.
Emily Armstrong
Super Reviewer
Now You Know Quotes
There are no approved quotes yet for this movie.