Key Largo
(1948)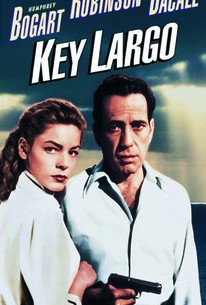 TOMATOMETER
AUDIENCE SCORE
Critic Consensus: Humphrey Bogart and Lauren Bacall are at the mercy of Edward G. Robinson's menacing gangster -- and so is the audience in this enthralling chamber piece.
Movie Info
Richard Brooks and John Huston's screenplay for Huston's Key Largo eschews the lofty blank verse of Maxwell Anderson's original play, concentrating instead on the simmering tensions among the many characters. Humphrey Bogart plays Frank McCloud, an embittered war veteran who travels to Key Largo in Florida, there to meet Nora Temple (Lauren Bacall), the wife of his deceased war buddy. Arriving at a tumbledown hotel managed by Nora's father-in-law James Temple (Lionel Barrymore), McCloud discovers that the establishment has been taken over by exiled gangster Johnny Rocco (Edward G. Robinson) and what's left of his mob. Also in attendance is Gaye Dawn (Claire Trevor), Rocco's alcoholic girlfriend. While the others bristle at the thought of being held at bay by the gangsters, the disillusioned McCloud refuses to get involved: "One Rocco more or less isn't worth dying for." As he awaits a contact who is bringing him enough money to skip the country, Rocco is responsible for the deaths of a deputy sheriff and two local Indian youth. Unwilling to take a stand before these tragedies, McCloud finally comes to realize that Rocco is a beast who must be destroyed. To save the others from harm, McCloud agrees to pilot Rocco's boat to Cuba through the storm-tossed waters. Just before McCloud leaves, Gaye Dawn slips him a gun -- which leads to the deadly final confrontation between McCloud and Rocco. His resolve to go on living renewed by this cathartic experience, McCloud heads back to Nora, with whom he's fallen in love. Claire Trevor's virtuoso performance as a besotted ex-nightclub singer won her an Academy Award -- as predicted by her admiring fellow actors, who watched her go through several very difficult scenes in long, uninterrupted takes. While Key Largo sags a bit during its more verbose passages, on a visual level the film is one of the best and most evocative examples of the "film noir" school.
News & Interviews for Key Largo
Critic Reviews for Key Largo
Audience Reviews for Key Largo
Key Largo is a film noir piece set in the Florida Keys where Frank McCloud (Humphrey Bogart) arrives to visit the family of a fellow soldier that died during the war (Lionel Berrymore and Lauren Bacall). Problems arise when the gangster Johnny Rocco (Edward G. Robinson) has holed up the hotel run by the family, waiting to sneak back into the country after being deported. Add into this the hurricane that will be making a direct hit on the south Florida island. Whenever you get John Huston and Humphrey Bogart together you're going to get something special and Key Largo isn't any different. The film has a deep noir feel, yet it transplants itself from the typical locale of seedy neighborhoods of the inner cities to what was a more quiet area that becomes isolated even further by the hurricane hitting. Bogart is the reluctant hero, beaten down by the war and the post war world that wanders into this situation by accident. He's not looking for trouble, but is prepared to deal with it if necessary. There is an attraction between McCloud and Nora (Bacall, the groomless fiancé), but nothing really comes to fruition due to the situation they're in, giving us believably that wasn't seen in films of this era. There's too much going on for this people to become romantic. Other circumstances may allow it, but not this set. Of course, Edward G. Robinson playing an egocentric gangster is his calling card. He's great in the role and plays it over the top when needed, but still has the ability to tone it down when the situation requires. Key Largo is a movie that builds onto itself, with a kind of snowball effect that compounds itself as the film goes on. There is a sense of claustrophobia when the film begins, that opens up as the film rolls on right along as Johnny Rocco loses control of the situation. And yes, the hurricane represents a huge character in the film is the boss over all that it surveys. Huston plays this card, but doesn't over play it, a great move by a master. Key largo is one for the ages, a great noir piece that paces great with wonderful acting. A testament to all of those involved in the film.
Chris Garman
Super Reviewer
½
A ruthless mobster and his gang hold a group of hotel guests hostage during a hurricane on the Florida Keys. Another Noir from John (The Maltese Falcon) Huston featuring the classic pairing of Bogart and Bacall, this film does not quite live up to the promise of these ingredients but that's a hell of a pedigree to live up to. Making Bogart a do-gooder war hero and Bacall a doting widow takes the edge off their usual cynical, hard-bitten sparring and this overly wholesome approach means that the crackling chemistry they have shown in their other films is compromised. Robinson and Claire Trevor as his soused moll provide the best moments and his sneering diatribes against Bogie's moral stand are great. The hurricane enclosed setting makes for a nice pressure cooker environment in which the protagonists show their true colours and puts an interesting spin on the usual Noir ingredients. Maybe not the most original or inventive examples of the genre and it misses the firecracker dialogue of the likes of The Maltese Falcon, but it is still effective, atmospheric and constantly entertaining.
½
Tight thriller with a top notch cast. Claire Trevor deserved her Oscar for broken down singer Gae Dawn she's heartbreakingly wonderful.
Key Largo Quotes
There are no approved quotes yet for this movie.