Khrustalyov, mashinu! (Khrustalyov, My Car!)
(1998)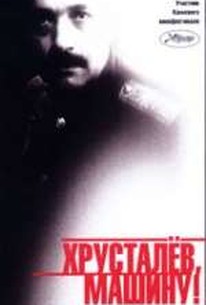 Movie Info
Alexei German directed this French-Russian co-production with atmospheric black-and-white cinematography on snow-covered streets depicting Moscow life of the early '50s. After work, boiler repairman (Alexander Bashirov) walks through the night and into an encounter with Stalin's police. Glinsky (Y. Tsurilo), aka The General, heads a household of his wife (N. Ruslanova), son, twins, grandmother, and servants. Amid anarchic actions at a madcap hospital, the staff turns toady as the General goes about his usual routines. When a KGB plot leads to the General's arrest, he flees only to be caught at the train station. Forced from their apartment, his wife and son move into a seedy rooming house where everyone has their own individual toilet seats. En route to a gulag, the General is gang-raped. Since he's a doctor, he winds up being taken to the country house of the dying Stalin. After a return to his family and the ruins of his home in Moscow, he eventually links up with the boiler repairman. Shown in competition at the 1998 Cannes Film Festival. ~ Bhob Stewart, Rovi
Critic Reviews for Khrustalyov, mashinu! (Khrustalyov, My Car!)
Audience Reviews for Khrustalyov, mashinu! (Khrustalyov, My Car!)
In "Khrustalyov, My Car!" General Klensky(Yuriy Tsurilo) is the head of a mental hospital in the former Soviet Union. The insanity that he witnesses there carries over to his family life which is depicted in the same madcap and whirligig way. What can be inferred is that this is set during the Stalinist reign of terror, replete with random people being disappeared right, left and center while it would take more information to identify everybody in Klensky's home to any satisfaction. There is also a key turning point in history that the movie treats in as matter of fact way as humanly possible. Which is the way history usually happens in real time. Except I'm sure the participants would have some feeling as to what was about to change, no matter what the movie may think. At least, it chooses the perfect moment to end on.
Khrustalyov, mashinu! (Khrustalyov, My Car!) Quotes
There are no approved quotes yet for this movie.